Case Study: Live To Virtual (Largest Event Of Its Kind - HLTH 2020)
Interview With HLTH's Team
HLTH is the leading platform that brings together the entire health ecosystem, focused on health innovation and transformation. Clarity is lucky enough to have worked with HLTH on both live events and virtual events throughout the years. HLTH made their tagline "2020 was the year everything changed," and Clarity couldn't agree more. Seeing as we have such a long history with HLTH, we wanted to dive into the work we have done together over the years, from live events to virtual events. We talked with the core team behind both the live event and the virtual event...keep on reading to hear what we learned!
HLTH 2019 live event in Las Vegas, Nevada
Remember the days of live events? Us too. Don't worry they will be back eventually! In the meantime, we can take a walk down memory lane and talk about the live event we put on with HLTH in Las Vegas, Nevada in 2019. This live event had one general session and five different track rooms. The general session is where attendees started and were set for 4,000 attendees. This room is where the keynote speakers were and where the entertainment was. The five different track rooms were where the knowledge exchange happened and they each were set up for 800 attendees. In addition, HLTH had three overflow rooms when the track rooms would max out. For these types of events, Clarity likes to have a planning strategy, a technical strategy, and a production strategy.
Details behind the HLTH 2019 live event
For this show, our lighting designer and producer spent around 200 hours doing design and pre-production work. Our load-in timing was around a day and a half and we had a total of 23 operating staff, 32 additional set/strike staff, and 12 rigging set/strike from Encore.
We had over one thousand feet of custom curved truss and 200 intelligent light fixtures. The Track Rooms had custom stages with multiple elevations, in addition to the AV set up and the exhibit hall, which had a large circular LED wall suspended over the HLTH booth.
HLTH brought in over 300 presenters, most of which are C-Level executives at large companies like CVS, Google, Pfizer, Novartis, Kaiser, etc. To accommodate this many presenters, we built a presentation management system and a communication process with all presenters and the HLTH team.
*Behind the scenes fun fact: we had hundreds of wireless frequencies going, which required an RF manager and a very organized team dedicated to monitoring this each day.
HLTH 2020 virtual event
Now that we relived those glorious live event days, we can go back to talking about virtual events! Transitioning from live to virtual can be tricky, especially for an event as large as HLTH...during a national pandemic, but we did it! We helped HLTH put on a virtual event at their studio in New Jersey with some of the HLTH team at their HQ and some working remote and it was remarkable, to say the least!
To gain further insight into what this process looked like, we spoke with Jody Tropeano, Content Director for HLTH, Ashley Witz, Operations Director for HLTH, Michael Hoefler, Creative Director for HLTH, and Emily Narcessian, Director of Platforms at HLTH, about what this transition looked like for them in their perspective roles, so keep on reading to learn more!
Interview with the leaders behind HLTH VRTL 2020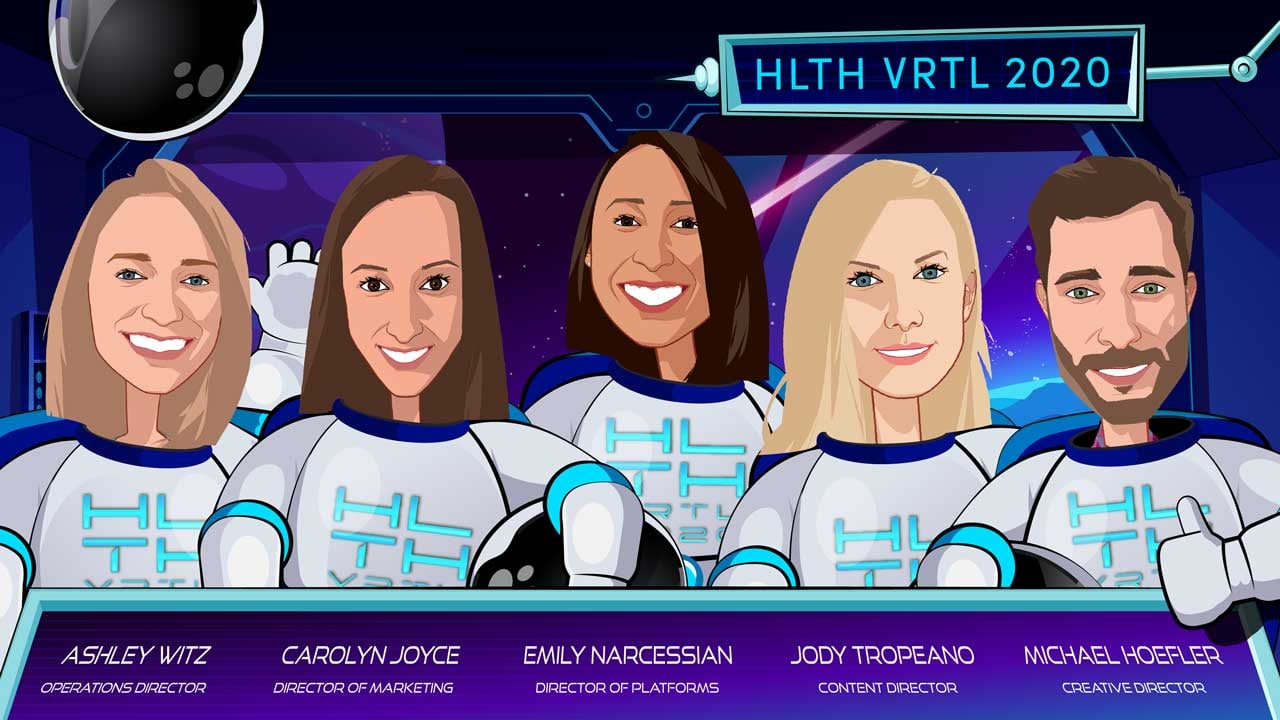 Jody Tropeano is the Content Director at HLTH. This entails organizing the main agenda for the event i.e. writing the sessions, recruiting speakers, organizing timing and formats, and managing the prep and execution of the sessions. Also, lead the speaker relationships. This year we expanded a bit with our weekly webinar series and a few other side content streams, which fall under the content realm as well.
Ashley Witz is the Operations Director at HLTH. In a pre-pandemic world, this consists of managing all onsite components of the event. Everything from hiring vendors, staffing needs, to working with the venue on room layouts and the overall flow of the event. This role also entails developing the operational processes that get us to the in-person event. Ashley oversees the logistics team, which consists of a speaker, sponsor, and partner logistics.
Michael Hoefler is the Creative Director at HLTH, which now includes products that range from conference/events, to health minded initiatives such as expert networking programs and women mentorship to weekly webinars and other sources of content dissemination.
Emily Narcessian is the Director of Platforms at HLTH and she is focused on their digital event strategy, improving program experiences and managing all platforms and tech systems across the company in order to pick the right solutions for their needs and support how everything fits together.
How do you take an event like HLTH with so many moving parts and transition it to virtual?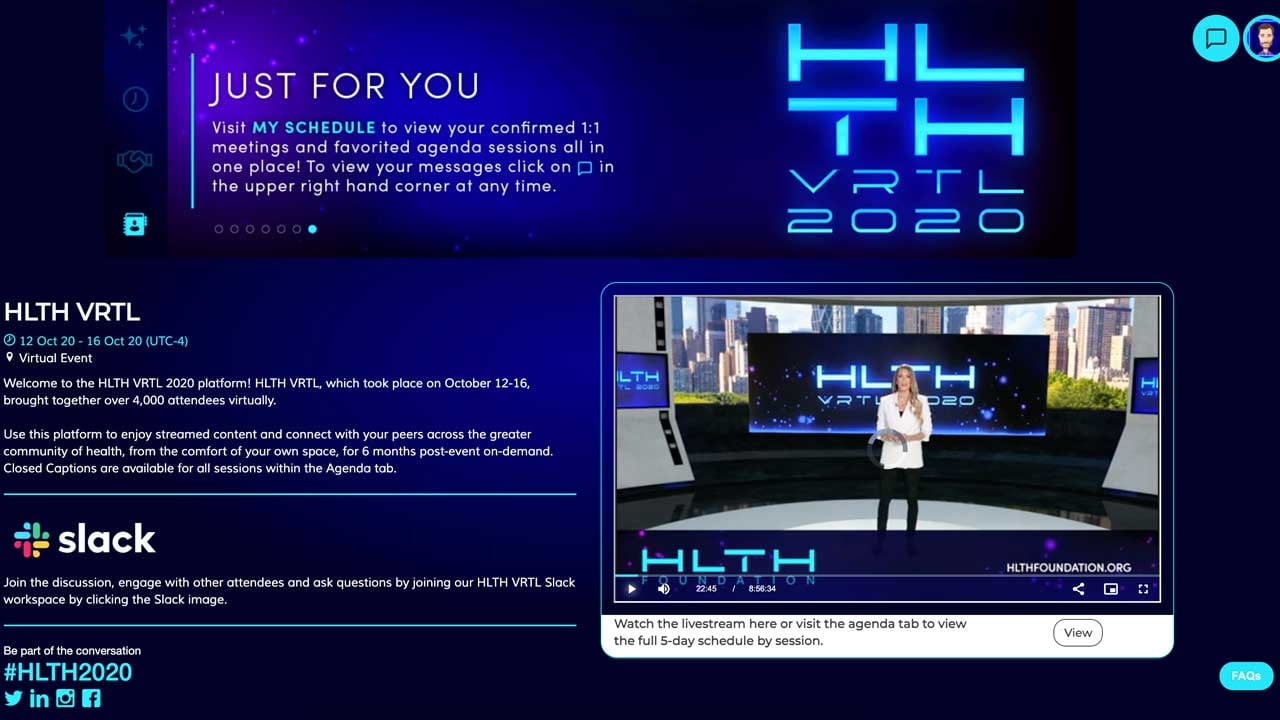 Jody: For the agenda, I had to think about how attendees engage with content virtually rather than in-person to make adjustments with that in mind. I realized that our normal 40-min long sessions, with 5 concurrent tracks, would not work virtually, we would lose our audience. So we decided to make the sessions significantly shorter, move to 2 tracks, and make the agenda really easy to digest. Attendees are not sequestered in an in-person environment, ready to watch hours and hours of content a day, but instead, they are working, parenting, etc. while watching the event virtually, so we accounted for that in planning. Our keynotes remained similar to our in-person event, they were always shorter sessions with just one track, but we aimed for higher caliber speakers.
Ashley: We had to cut some aspects of our in-person event which mostly consisted of having less content. Typically, in-person would have 5 concurrent tracks. For virtual, we opted for 2. That being said, when we initially started planning, our event was only slated for 3 days. We quickly realized we need to extend it and give our partners a platform to speak, so we extended our event to be the full week.
Michael: Make it up as we go? From a creative standpoint, it was really important to be able to translate much of our branding and illustration style into the digital realm - which is much easier to do than onsite and, to varying degrees, cheaper and perhaps less laborious in terms of manpower necessary to achieve the final product. Usually, a live event is planned with intermittent input from creative about show flow. However, with a virtual platform, it was imperative that we map out every minute of each day and understood transitionally how we were moving people from one session to another without ever leaving their seats. So we treated the VRTL event as if we were a broadcast studio, creating commercial blocks. allowing breaks between sessions for cross-content advertising. Not only visuals were necessary, but the audio was extremely important. Like an in-person event, all the senses are employed and we had to do the same here - but with much of the content prerecorded, we could plan exactly how the day ran and for the most part, it was the smoothest event I've ever had the pleasure to work on.
Emily: The first important step is to align on a fixed portion of the event. Before choosing a platform for the event, our team had to decide on the experience journey, objectives and content to help determine the best platform to reach our goals. To choose the right digital venue, you have to consider the ease of use, integrated capabilities as well as customization benefits for branding and making it your own! We looked at platforms that could deliver all the functions of our event seamlessly with the help of our integrated CRM system, Salesforce. Those functions included: Registration/Attendees, Content/Streaming, Sponsors/Exhibitors, Networking Opps, and last but not least, Reporting and Analytics.
What were your goals in the virtual environment vs. the live environment?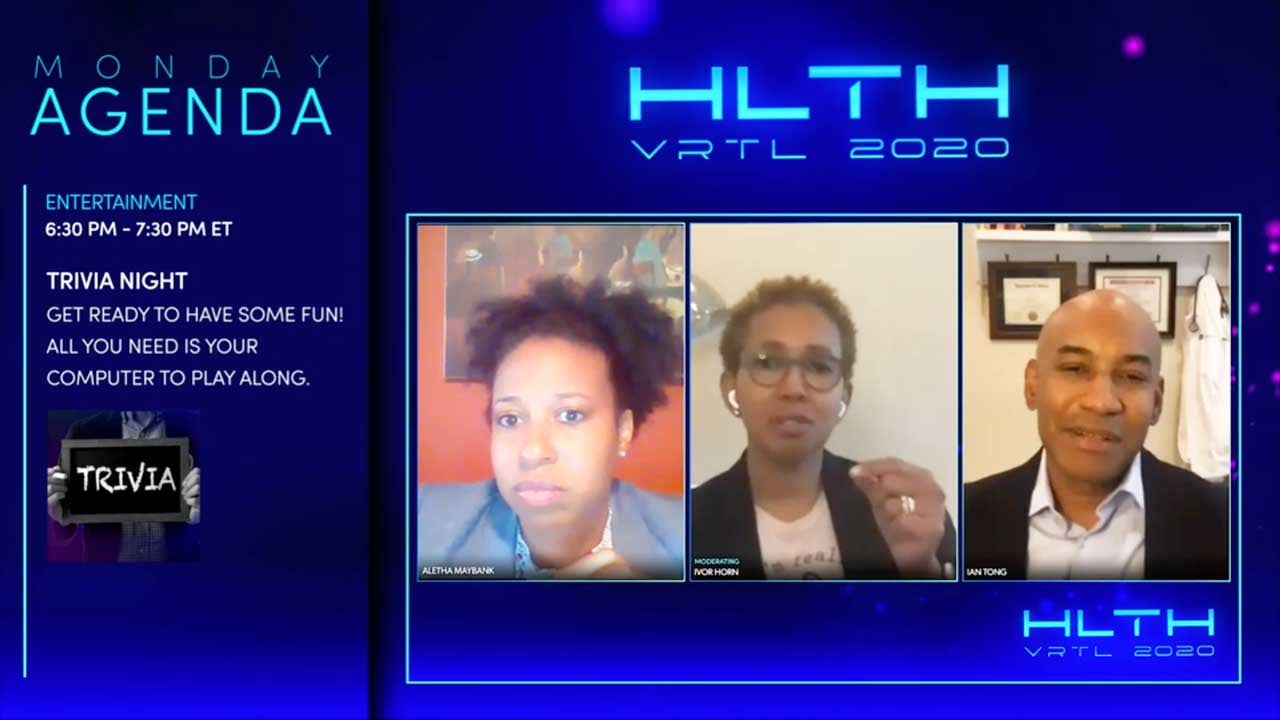 Ashley: We wanted it to still feel like a HLTH event. People are suffering from Zoom fatigue and are on webinars all day, so our biggest task was to bring them something different than all of the other virtual events. Part of that challenge was to figure out exactly what "different" means. I specifically remember when we announced we were moving to virtual, some of our previous attendees made comments like, "We love your in-person events, we are so excited to see what your team comes up with for virtual." Obviously, this is great to hear, but also a bit daunting.
Emily: The expanded reach of digital is pretty phenomenal. I truly believe we have reached a new era where in person and virtual attendee experiences are integrated by tech in a new virtual medium for events moving forward. While in-person events will come back in full force, the digital capabilities will continue to drive and improve experiences in the future. The benefits of going virtual allows you to gain a broader global reach with remote attendees at home. The vast majority of people who attend digital events are going for content, so we had to program that medium differently and make sure we were still delivering top-notch streaming, storytelling and content! Also, giving our attendees the ability to consume content on-demand after it had aired live was key for the digital audience.
From a design perspective, what was the rebrand and primary goals for HLTH VRTL?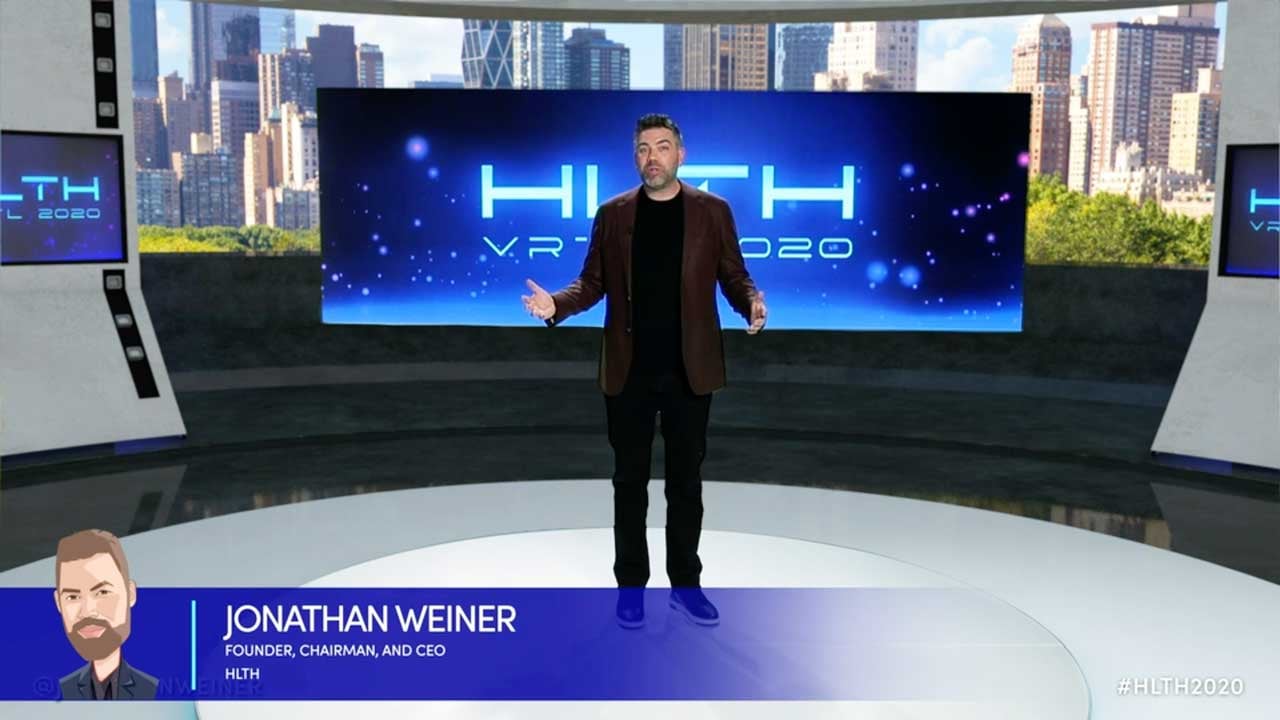 Michael: The rebrand was darker, for one. Just months out from our planned in-person event we switched to VRTL. So it was important that instead of simply changing copy and announcing a new direction, in turn, we rebranded as a contrast to the original event styling. Darker, sexier, using color as light - we took to virtual as if we were truly stepping forward into a futuristic HLTH event. The difference in style and tone from in-person event to virtual was extremely visible and made it easier for us to relay to our attendees and sponsors that we are moving forward with a strong and cohesive product rollout for VRTL.
As for goals, I wanted to ensure all of our video assets that range from animations/illustration to live video capture fit together seamlessly. The use of a green screen studio for our VRTL HLTH Studio was an integral part of weaving our pre-recorded content with an aspect of "live" television that helps break up the monotony of just streaming a bunch of sessions with little to no interaction or further discussion regarding topics discussed. That greenscreen did wonders for our brand image and looked as though we've done this countless times.
What did you do to preserve the culture and character of HLTH in the virtual environment?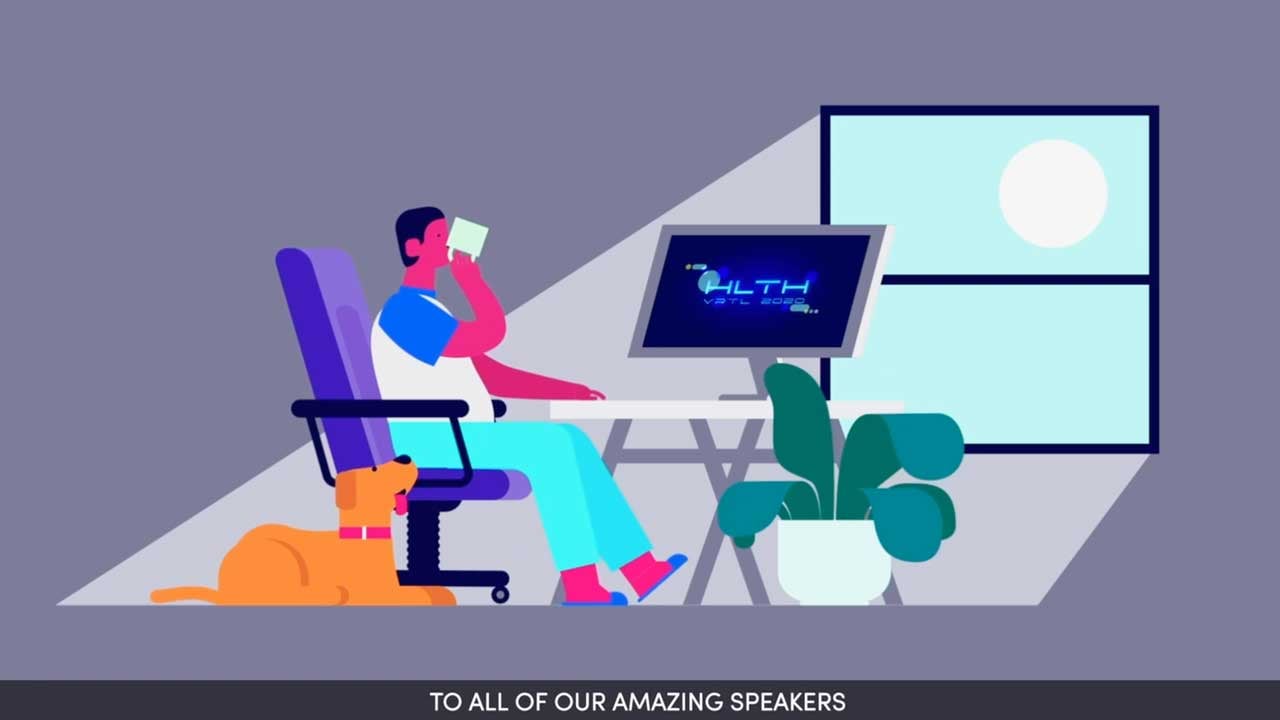 Michael: Animations. Our brand has built a visual identity around our playful and sometimes whimsical use of illustration and animation and having those elements incorporated into everything video was important. Continuity helps build brand recognition and since we were doing a first-ever virtual show, we needed to break away from traditional HLTH branding constructs and showcase a product that was novel in comparison.
What was the most exciting and challenging part of this event going virtual?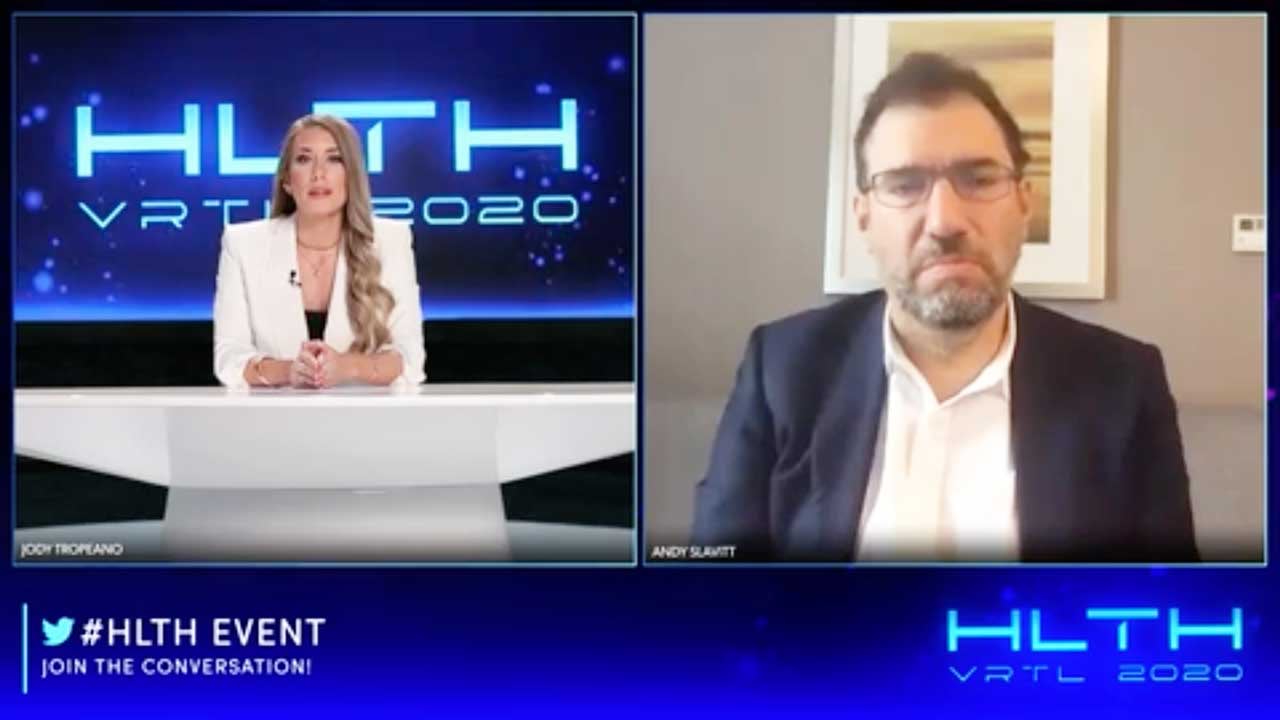 Jody: Getting to actually sit and watch all the sessions as our attendees were watching them was the most exciting part. During the in-person event, we are running around and putting out fires, so we never get to sit and watch the sessions all the way through (until we get the recordings after), so it was nice to see what the attendees were seeing. Also, just seeing how agile our team was in planning, very proud of everyone!
The decision to pre-record all sessions was a really important one for us and definitely the best move, but there was A LOT of planning and logistics that came with that choice, making it the most challenging part. With the number of sessions and speakers that we were juggling, it was a lot of work to stay organized and not let any person or session fall through the cracks. We overcame it simply by staying organized, remaining in constant communication with Clarity and the producers, and also constantly checking in on speakers.
What key partnerships were needed to pull of HLTH VRTL?
Michael: An extremely reliable and trustworthy AV company that understands project management and the importance of meeting deadlines with extreme accuracy 100% of the time. Our relationship with Clarity is also personal - we know one another on a personal level and can relate to one another's "sensibilities". On a professional level Clarity knew what HLTH was expecting and that at the last minute, we would have newer and grander additions so Clarity planned for those in advance, even without us really knowing, they were always one step ahead.
What led you to your decision in working with Clarity for this event?
Ashley: Choosing a production partner, as well as any vendor for virtual, is a difficult task because this whole realm is new to so many of us, so trying to understand who has done this before, and who you feel really confident in, is challenging. In my personal experience working with Clarity, for many years both at HLTH and prior companies, I have known them to be able to overcome anything that is thrown their way. When there is a new challenge, they embrace it.
Emily: The biggest value add Clarity had to our event was the high-end production quality. It really made a huge difference and upheld the HLTH brand and prestige.
How would you describe your partnership with Clarity?
Michael: They know my obsessive nature in regards to the smallest details of everything. And, though they may snicker about it behind doors, they are always 100% onboard with making things happen no matter how out of the box or extreme those ideas may be. So the collaborative nature between our two companies always felt natural and symbiotic. Clarity also understands that if I request baileys with coffee in the morning, there's going to be Baileys in my coffee in the morning. That's respect.
Emily: Slamming. They got us covered. We love Clarity.
Clarity Is Looking Forward To 2021 Events With HLTH!
Clarity wants to thank the entire HLTH team for their partnership and allowing us to be part of their live events over the years as well as HLTH VRTL. At the end of the day, whether you are hosting a live event or a virtual event, Clarity Experiences is the partner that helps make sure a vision gets communicated and translated in a way that supports your brand and the message! We are excited to see what 2021 has in store for both us and HLTH and we can't wait to help them with their next event. Give us a call if you are interested in talking about your 2021 virtual events!
Different Roles AV Companies Play in Live & Virtual Events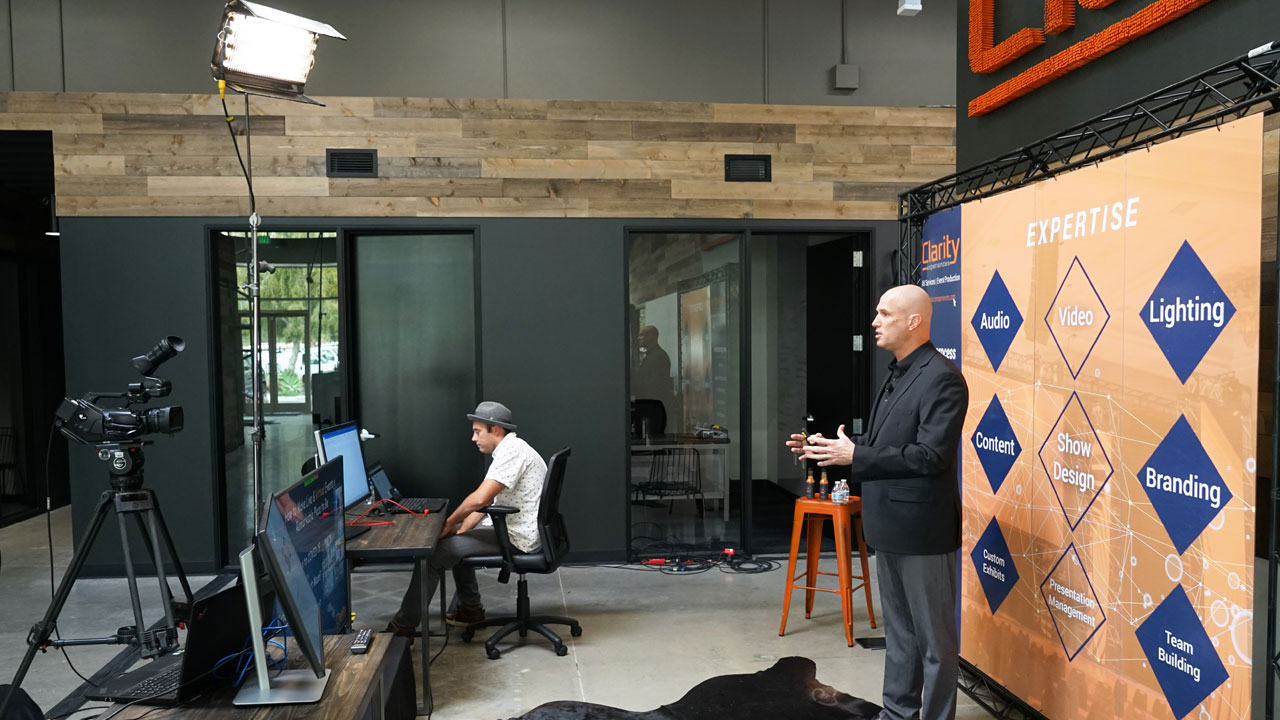 Different Roles AV Companies Play in Live & Virtual Events
Making Virtual A Reality: The Clarity Virtual Studio Series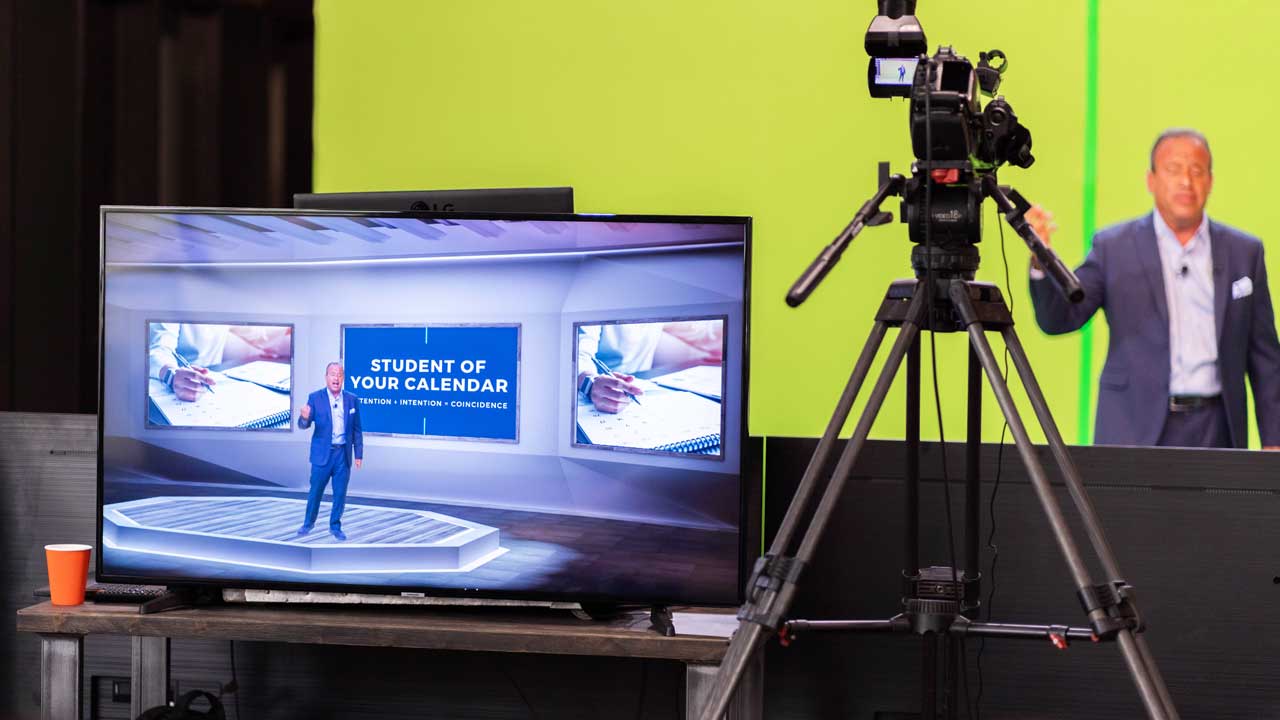 Making Virtual A Reality: The Clarity Virtual Studio Series
How to Bring Your Live Events Back & Out of the Virtual Space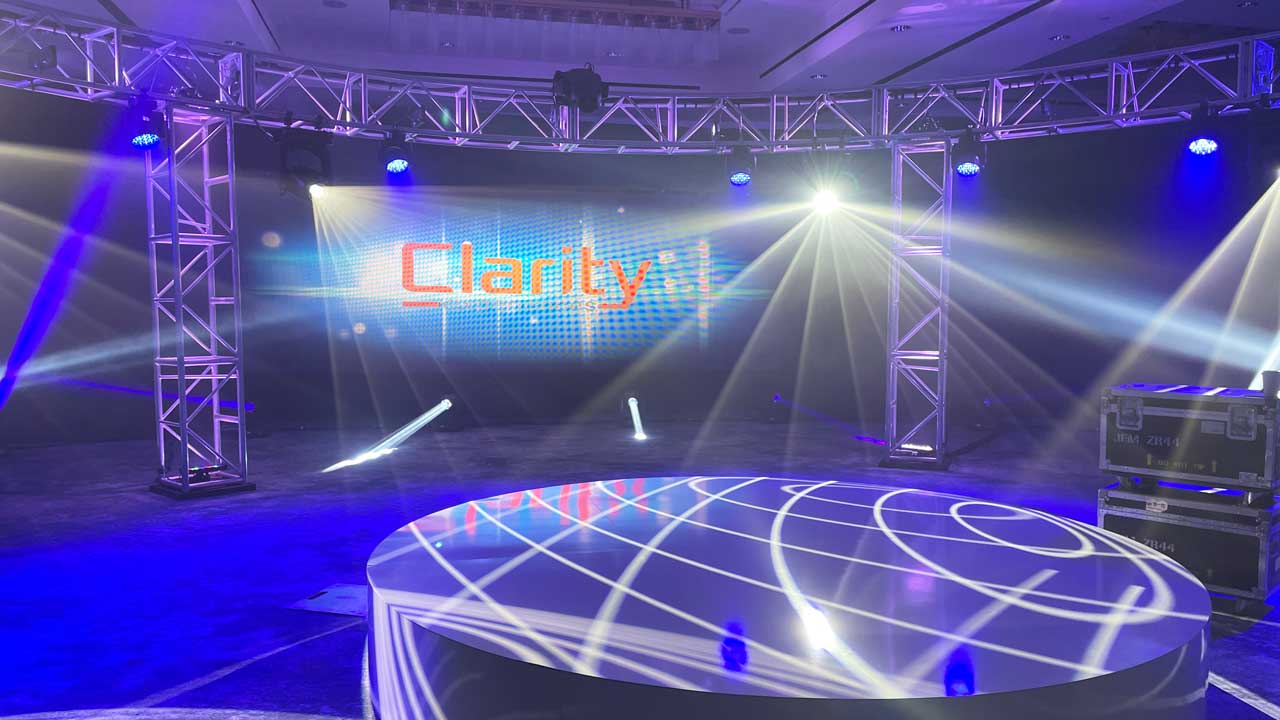 How to Bring Your Live Events Back & Out of the Virtual Space