Clarity's Top 5 Virtual Events Of 2020
What Was The Clarity Team Up To In 2020?!
2020 was no doubt a wild year, but some positives did come out of it for the Clarity team. We were able to master virtual events and put on some pretty remarkable ones at that. While we are excited to ring in 2021, we want to reflect on this past year and talk about our top five virtual events we put on. For each virtual event, we spoke with our representative who worked the closest on the event to get the event details and hear what their overall thoughts were. Keep on reading to read more about our most epic 2020 virtual events!
HLTH - New York, New York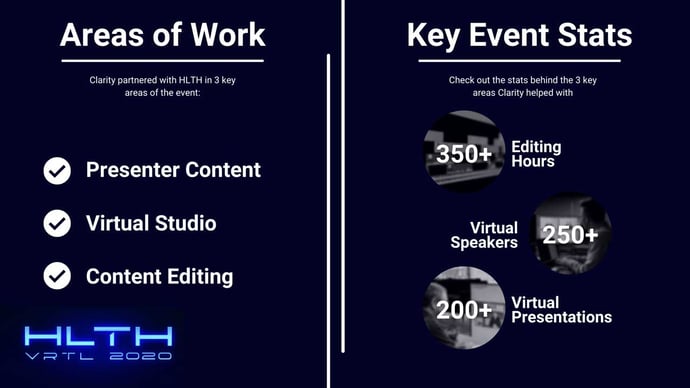 One of the most memorable events from 2020 was the one with HLTH. On their website, HLTH talks about how they are, "the leading platform bringing together the entire health ecosystem, focused on health innovation and transformation. From unparalleled events with industry-leading speakers to inspirational digital content and mission-driven initiatives, HLTH creates a unique marketplace for the health community, leading the dialogue and development of a new health ecosystem." For this event, we spoke with Gary, Clarity's VP of sales to get his intel!
About the virtual event
Being the leading healthcare event, HLTH VRTL brought together thousands of attendees and hundreds of presenters to discuss the history-altering events of 2020 with COVID-19 as the primary topic. Intertwined throughout the event were several pieces of content recognizing and showing gratitude to all the front-line workers and first responders, which added a nice theme throughout the week.
Clarity partnered with HLTH in three key areas of the event:
Presenter Content:

Clarity worked with all presenters to capture quality presentations, which included: calls and tech checks with hundreds of presenters, and recording and capturing quality presentations with most of them being panel discussions, and then editing these to be ready for the live event.

HLTH VRTL Studio:

Clarity built a live broadcast studio in New Jersey, which acted as the hub for the event. The studio was used to introduce keynote speakers, give announcements, and to kick off the event with the CEO of HLTH, John Weiner.

Content Editing:

Clarity worked closely with the HLTH design team to take all design assets and bring them together into the final content piece for each part of the event. This included graphics for the studio environment, templates for each presentation type, and an eight-hour running presentation piece that matched the agenda for each day of the event.
HLTH VRTL consisted of keynote sessions, networking, startup pitch sessions, impact programs, specialty programs, and employer programs. This event had 250+ sponsors, 250+ presenters, 350+ hours of editing, and 200+ presentations. Overall, HLTH VRTL was a total success, largely due to the research, expertise, and hard decisions the HLTH team had to make. Some of the key reasons for the success of the event were investing in the right technology, working with familiar partners, and choosing to pre-record the majority of presentations, even days before the live event.
Here at Clarity, the timeline to record and edit the massive amount of content by the deadlines was a challenge, but our teams knew what to expect and stepped up to the plate to make it happen. However, they all appreciated some much-needed downtime after the event!
The biggest success in both live and virtual events is seeing all the hard work come together to make a difference and that's exactly why HLTH exists, to encourage change and make a difference. It's an honor to be part of this movement alongside HLTH. Clarity is excited about the future and we can't wait to do it all over again!
The biggest lesson Clarity learned is that in a year like 2020, we made the right choice to invest in our employees and our customers, even though it was difficult. We adapted to change and ended up with several new business channels that will be here to stay. Whatever 2021 brings, Clarity is ready to continue this path and will be there for our industry and our customers.
ASICS - Irvine, California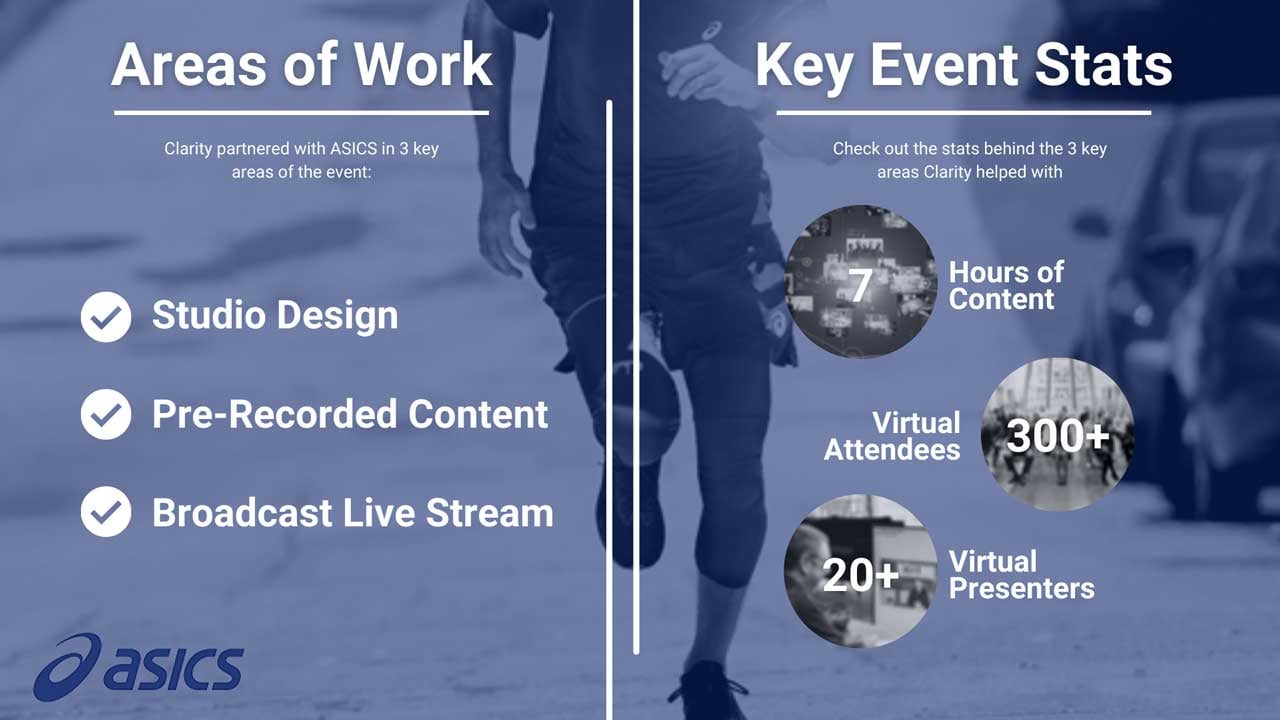 When looking back at 2020, the virtual event we did with ASICS is one that stands out for sure. ASICS is a company that is headquartered out of Japan but has an American corporation in Irvine, California. ASICS is a sports equipment company for all different kinds of sports. We were lucky enough to put on a virtual event for their GTM (Go-To-Market) event for the ASICS Autumn-Winter 2021 product line. The purpose of the event was to show ASICS employees and retail partners the new line of shoes and apparel for 2021. The event is attended by about 350 people and is typically held at a hotel of ASICS' choosing...for this one, we had to find creative ways to take this experience virtually. We talked with Rob, Account Executive, to get all the details on this virtual event!
About the virtual event
The virtual event that was put on for the sales meeting had over 300 participants, 10+ speakers, over 20 executive presenters, and more than 30 different products filmed. Clarity's role for this virtual event was to handle all of the logistics. We proposed building a studio in Boston, where ASICS is headquartered. We took care of the planning and design for the studio space, produced, directed, and edited all recordings. We created the creative set of treatments used for the stage. We also broadcasted the live streaming event from our Clarity office in Orange County, California.
Clarity had to combine a couple of different technologies to pull this virtual event off. ASICS was interested in creating a high impact, highly produced stream that would also allow for attendee engagement and interaction. By combining streaming general sessions with breakouts, we were able to "virtually" create the environment for the ASICS attendees to learn everything they needed to know about the new products.
The most challenging part of the ASICS event was the short turnaround time from studio to stream. We had to edit about three days' worth of recordings down to a 7.5-hour program, complete with special effects, voiceovers, product detail shots, and on-location B-roll.
The biggest success to come out of this event was undoubtedly taking the sheer amount of content that we were provided with and creating a highly produced and polished product in record time!
We continue to learn how important the right team is...it's something we always knew, but in the world of virtual events, it becomes even more crucial. We had the right team for this event, and for that reason, we were fully successful. We asked Rob what his overall thoughts were on this virtual event, and he said, "the event went very well and everyone at ASICS was happy. From the CEO on down, we got excellent feedback."
WellSky - Overland Park, Kansas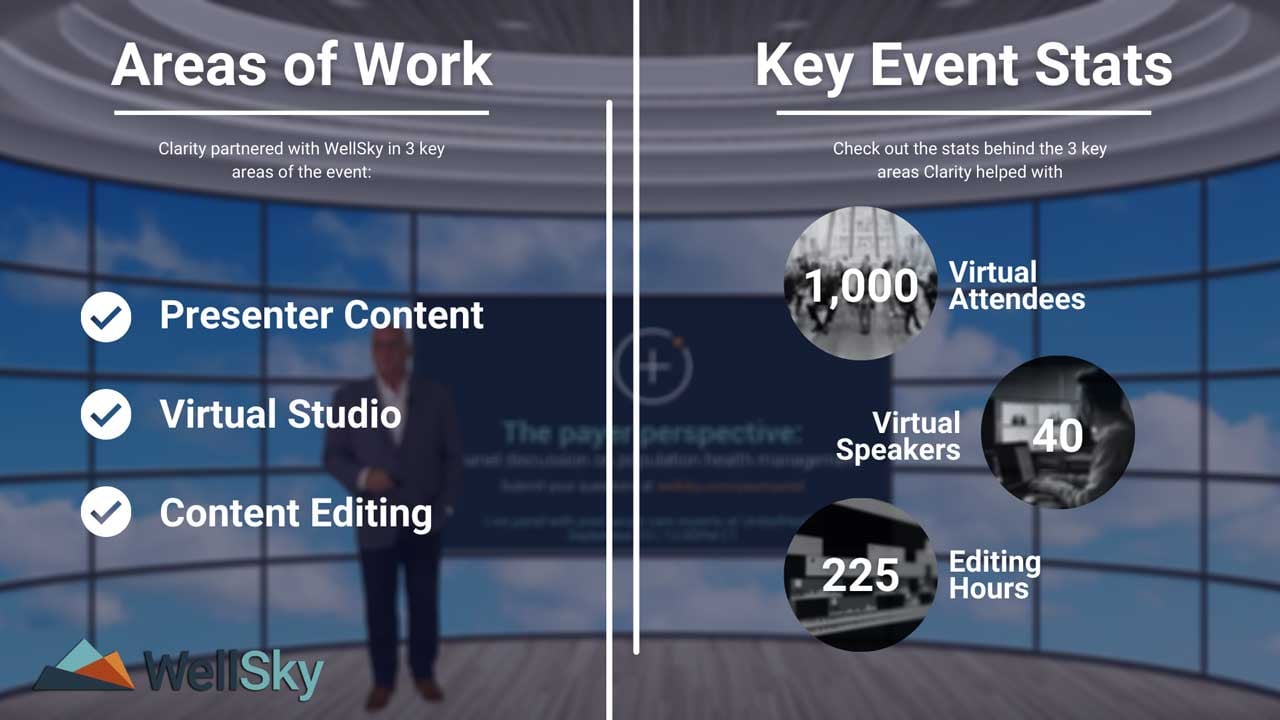 WellSky is a company headquartered in Overland Park, Kansas that "delivers software and services to transform an ever-growing range of care services worldwide." We worked with WellSky to put on a virtual event for their clients that use WellSky's tools. For this virtual event, we talked with Adam, one of our account executives to get the deets!
About the virtual event
Clarity's role for this virtual event was to record and live stream the event. Clarity also built a full green screen studio in WellSky's corporate office. The virtual event included the studio, control room, remote kits, records/edits, and panels. The general session for this virtual event had a little over 1,000 attendees, and 40 presenters, and it took the Clarity team 225 hours for editing.
Overall, Adam said the show went well and the live stream ran smoothly! The biggest success of this virtual event was how smooth everything ran, so much so that they want to use Clarity for their virtual events over the next few years! Adam said that if he had to pick a challenge for this project it would be getting the remote presenters sorted out and handling the tech checks. Clarity's biggest takeaway from the WellSky virtual event was just how important it is to have the right people in the right positions to put on the best show possible.
PAEA - Washington DC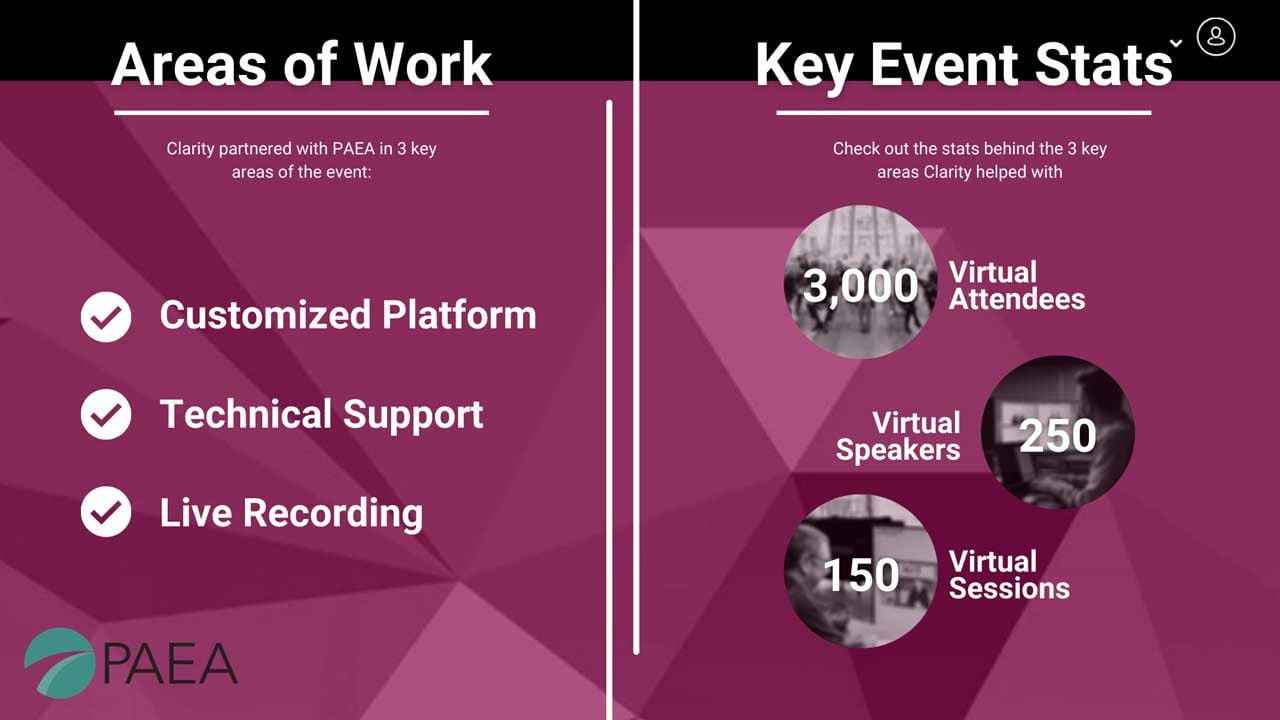 PAEA is a "national organization representing physician assistant educational programs in the United States." Clarity was lucky enough to work with them on their annual event for physician assistants. For this virtual event, we talked with Craig, Clarity's regional general manager to get the inside scoop on what went down for this event!
About the virtual event
PAEA's annual event is for physician assistants to earn CME credits, continuing education, and networking. Clarity's role for the PAEA event was to offer support by providing the customized platform. All of the keynote sessions were streamed and the workshops used the Kaltura live player for the concurrent sessions. Throughout the four day event, Clarity supported 150 sessions that had over 3,000 attendees and 250 speakers!
Overall, this virtual event was a huge success. All of the sessions were productive and had great attendance and interaction. A handful of attendees had technical glitches that prevented them from viewing the stream or taking place in a live session. The technical glitches were due to security measures on the network they were on. Looking back, this was a challenge, but Clarity was able to figure it out! Clarity successfully troubleshot the attendee's issues and got them connected after a short time. Clarity received a lot of positive feedback about our team of virtual operators that supported each session. Our team handled the recording for on-demand moderating of live Q&A and any other request from the speakers in support of the session.
The biggest success from the PAEA virtual event was the training and execution of the more than 250 speakers in the concurrent sessions. Most of the speakers were involved in a virtual event for the first time and had very low confidence and little experience using a virtual platform. The Clarity team spent countless hours on full group training, individual presenter rehearsals, and email support to ensure each session was executed as designed. These included the use of live polling, breakout rooms, video playback, live Q&A, panel discussions, and more.
Clarity took away a lot of lessons from the PAEA virtual event. The biggest being that the communication process with a client is crucial to productivity and the timeline. This event changed Clarity's process of communication by limiting email messages and moving to a more functional funnel where only a few contacts from the client organization gather the information and share it with Clarity. This process has improved the speed in which we can answer questions by removing duplicate requests and expediting tasks that are an actual priority and not just by when an email came through. This process has been effective on several events after PAEA ended and was a great lesson learned!
NALCAB - San Antonio, Texas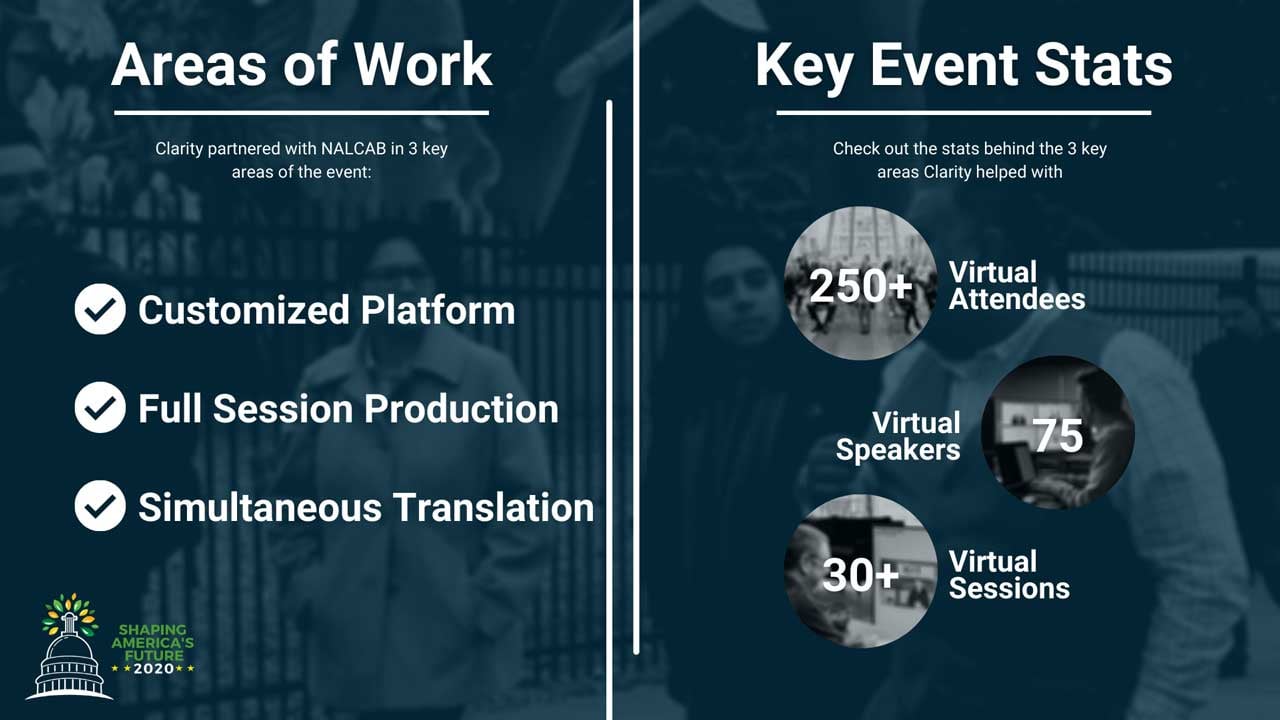 NALCAB stands for the National Association of Latino Community Asset Builders and is, "the national voice for a diverse group of Latino-led community development corporations and other community-based organizations that focus on asset building. The group aims to build financial and human assets as well as real estate and technology resources in Latino families, communities, and organizations." Clarity was fortunate enough to put on a four-day virtual program that brought together community leaders and elected officials to discuss and explore policy solutions affecting the Latin Community. To gather more insight into this virtual event, we spoke with Andi, Clarity's Regional General Manager, Pacific Northwest & Canada, because she was the representative working closely on this project!
About the virtual event
The focus of this virtual event was on small business growth, strengthening neighborhoods, and promoting a strong economic agenda during the current crisis. US Representative Joaquin Castro, Senator Marco Rubin, and Mayor Regina Romero led the discussions. This segued into three days of innovative and interactive training focused on community development.
Clarity provided full production and platform for this event, including simultaneous Spanish translation and sign language interpretation. Day one focused on streaming-high profile presenters and panels in our Vmix configuration. Days 2-4 were training classes using the full breadth and interact breakout feature in the platform, running four consecutive breakouts throughout the day, along with virtual exhibits and session surveys. This virtual event had 250+ virtual attendees, 30+ sessions, and 75 speakers.
The virtual event with NALCAB went well and was aided by an internal Slack channel, which allowed the Clarity team to communicate with the show runners to solve any issues quickly.
When asked what the biggest challenge was with this virtual event, Andi said finding workarounds to deal with the hard coding of the platform, which is a challenge in a lot of virtual events. In this case, the first day of the event was free to the general public and the rest of the event was paid training. Certain pages of the site were to be exclusive for the training participants vs. the policy day attendees. We were challenged to find a way to drive different registrants to the same site with different access to site content. Since most sites focus on security to login to the platform and rarely focus on security protocols after attendees are safely on the site, this was a challenge. We tried several different workarounds with not the result we hoped for. In the end, our solution was to clone the site and delete or add pages to accomplish the restricted vs. open-content wanted for each site. We then needed to manually manipulate the registration, so that the passcodes for the two sites were distributed in the correct way to achieve the original ask and make all participants feel the experience was shared and seamless.
The biggest success with the NALCAB virtual event was building a view in the Vmix that could accommodate a panel, lower thirds, Spanish translation, ASL interpretation, and our usual overlays without looking too crowded or busy. Most virtual event streams these days are one or two talking heads, so to incorporate all these additional elements that need to be on-screen throughout in a way that doesn't overwhelm or overload the viewers with information was key to the success of the event. Our team did an awesome job creating several different views that accomplished all of this.
As a team, we learn something from every event we do and take that knowledge to elevate the next one. Sometimes the things we learn are technical and other times they are procedural. This event had a lot of moving parts and a lot of contributors, which I feel muddy the communication chains. At the NALCAB event, we learned a lot about streamlining access and standardizing procedures so that both sides could focus more on solutions than getting bogged down in repetitive communication.
That's A Wrap On 2020
Those were our five favorite virtual events of the year! We are excited to officially close the door on 2020 and can't wait to see what kinds of virtual events and hybrid events 2021 brings. Drop us a line if you are interested in talking about your 2021 events, we would love to work with you to make them remarkable!
Clarity AV Production Insights & Advice Video Series - Episode 3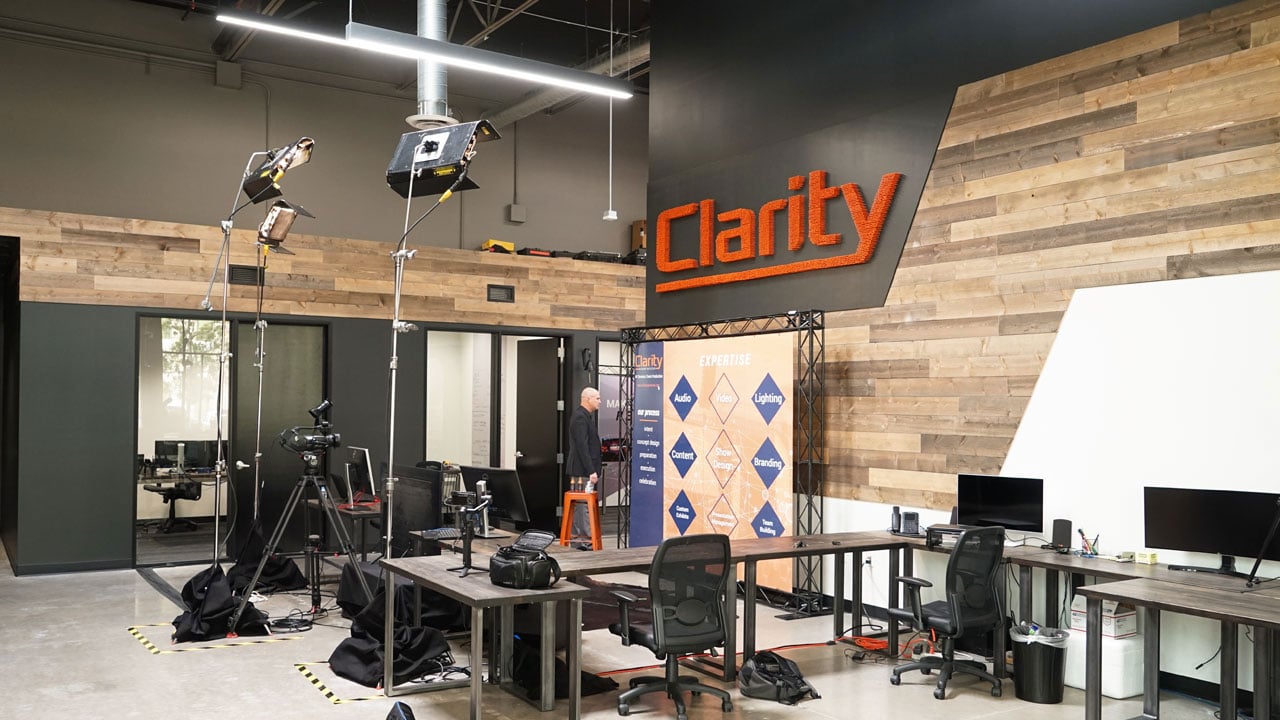 Clarity AV Production Insights & Advice Video Series - Episode 3
Making Virtual A Reality: The Technology Behind Clarity's Virtual Studio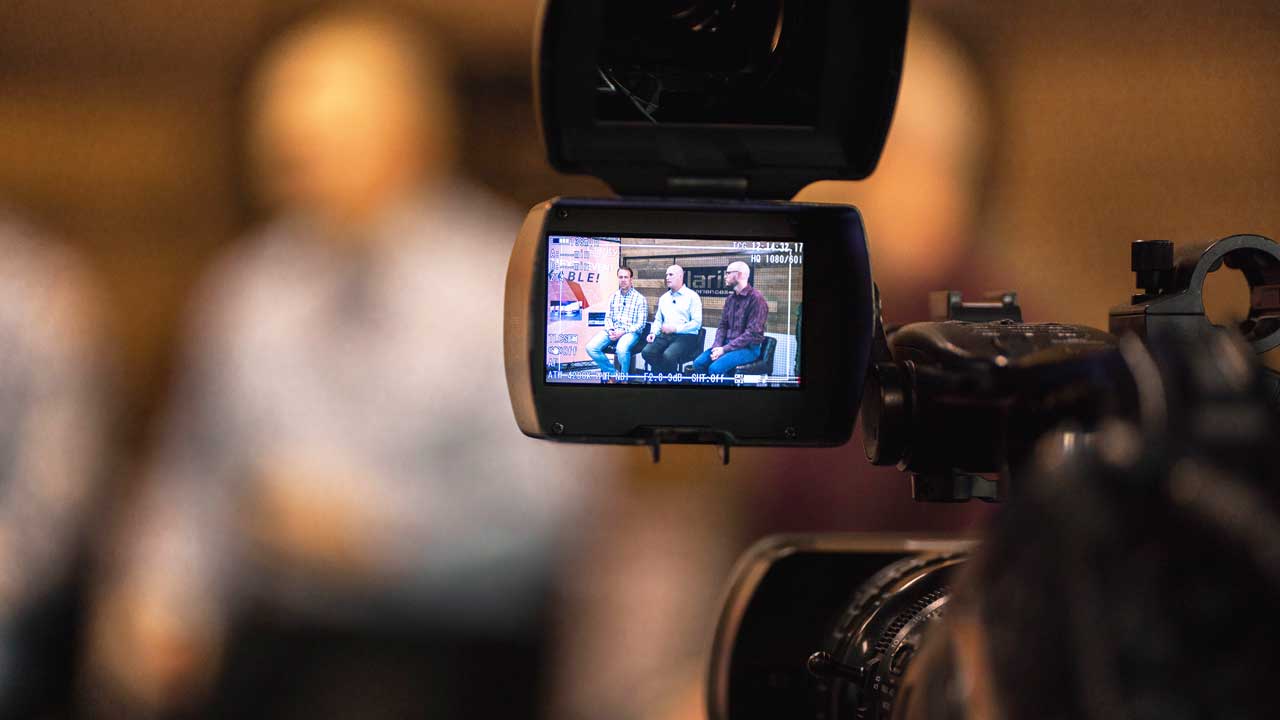 Making Virtual A Reality: The Technology Behind Clarity's Virtual Studio
Clarity's Custom Virtual Event Platform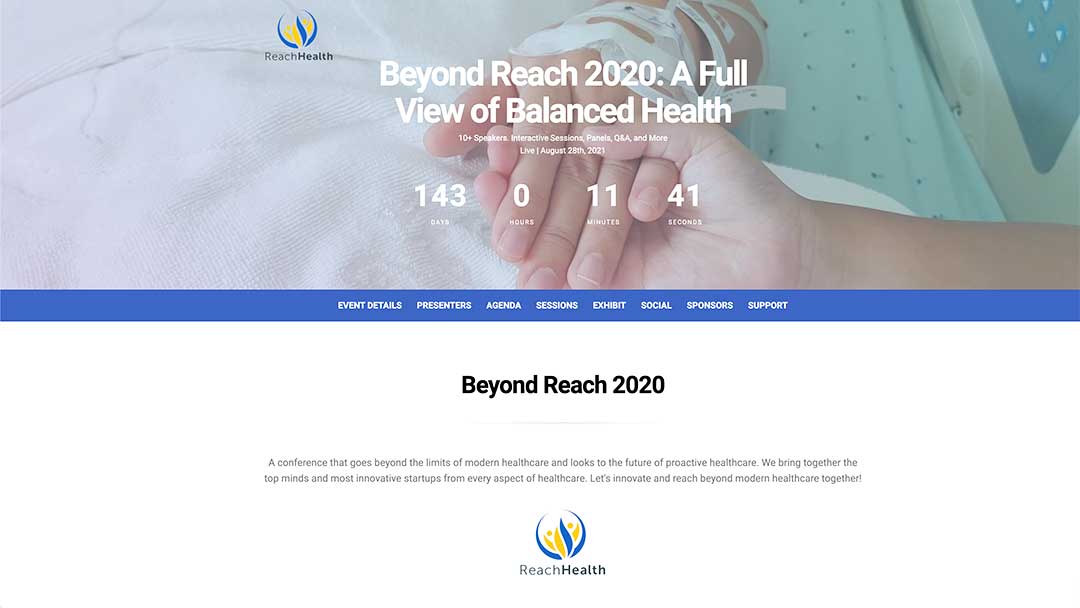 Clarity's Custom Virtual Event Platform