Making Virtual A Reality: The Technology Behind Clarity's Virtual Studio
Virtual Studio Product & Technical Team
Hi everyone! Brian here again. We are back this week with our next topic on Making Virtual a Reality. We hope you enjoyed last week's blog where we talked about what a virtual studio is, where ours is located and all of the different capabilities and benefits it offers.
In this week's blog we are going to focus on the different products, technical equipment, and team that is needed in a virtual studio, live and pre-recorded options, as well as live streaming and platforms. All of these products and technical components we will be talking about today will help your virtual event have the highest possible production value be truly remarkable! We hope you enjoy!
Product & technical elements needed in a virtual event studio
The product and technical elements including both the people and the equipment used in a virtual studio are what's going to set your virtual event apart from a Zoom meeting or other virtual events.
Lighting in a virtual event studio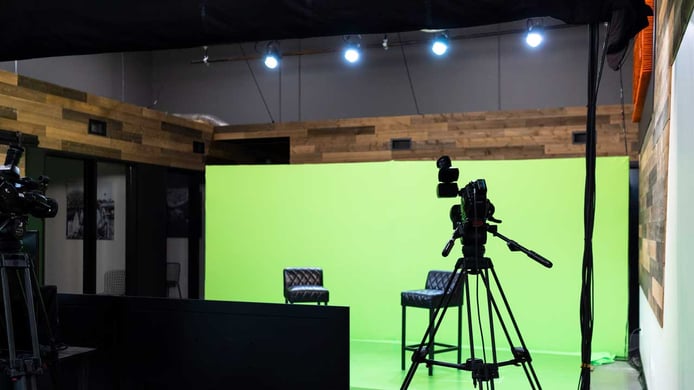 Lighting is always an important part of any environment, especially when you are recording. In our studio, we have a variety of lighting options including kino flos, which are fluorescent studio lighting. We also use LED stage lighting. This allows us to both light the stage and provide coloring and effect lighting that you are used to seeing in your live event.
Audio in a virtual event studio
The audio capabilities are also critical to virtual events as you need to have the ability to talk to the live presenters on stage, the virtual presenters, as well as the technical team. We can route and control our audio so that everyone can effectively communicate and the audience only hears what they are supposed to. In this case, it's more about the operators than the equipment, we have experience managing virtual events which makes all the difference when using your studio environment for that purpose.
Confidence monitors in a virtual event studio
A few weeks ago we did a virtual event with keynote David Meltzer. The virtual event had a live Q&A section where our attendees could ask both David and me any questions they had regarding the virtual studio and the virtual environment. One of the questions our attendees asked was surrounding confidence monitors specifically.
The question was how does the keynote see his notes or know what to say next? David Meltzer was able to personally answer this question by saying, "First of all I'm a clock freak. I speak with no notes and no slides so the clock is very important. It's incredible the size everything is in this virtual studio. You could easily have four big monitors if necessary, and I can see everything that's behind me, my notes, there's a huge clock with color-coding...it's the best and the easiest stage I have ever spoken on and I've been on a 30-yard stage before.
To paint a picture for you, our team also uses 74" confidence monitors that are placed throughout the studio to provide the presenters with a variety of screens so they can not only see their content, but they can also see the other remote presenters' content.
Our virtual studio helps presenters feel confident and comfortable in getting their presentation across in a virtual environment. Clarity's virtual studio allows for both live and pre-recorded virtual events.
Cameras and computer equipment in a virtual event studio
The power behind the studio comes in the form of the camera and computer equipment designed to support virtual events. We have a variety of options that we use for cameras based on the needs of each customer. Capturing the video with 4K cameras from a variety of angles is a great way to ensure you have high quality throughout the process.
We also use other cameras based on the configuration required and the overall needs of each customer. In our studio, our engineers have designed custom computers to use with virtual events to provide the confidence and horsepower needed to stream live events. We also use a fiber internet connection for our primary circuit with an option for a secondary bonded cellular service as a backup option.
Are virtual events live or pre-recorded?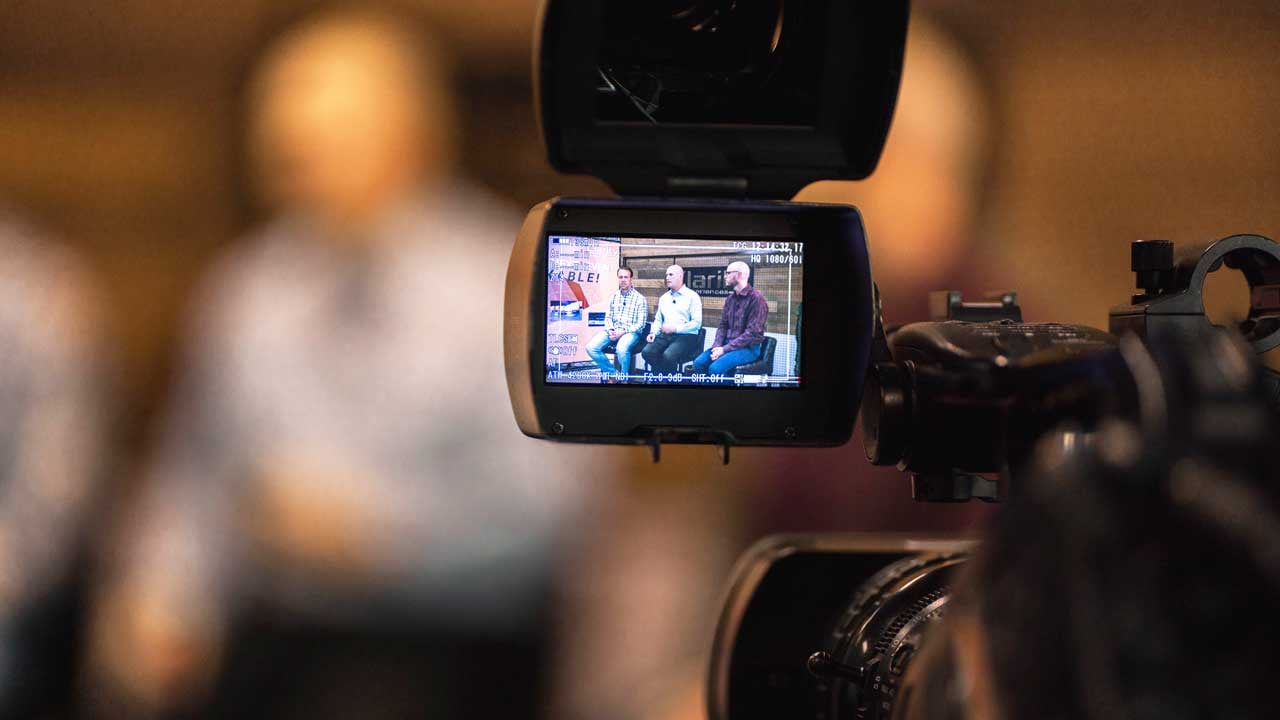 Another attendee question in the virtual event with David Meltzer was if the virtual event was a live virtual set or if it was pre-recorded. That particular virtual event was all done live including the Q&A. We were in our live studio environment with a green screen behind us, which allows us to change the sets with unlimited options.
While that particular virtual event was live, virtual studios also allow you to pre-record. You could pre-record your entire event and then choose when you want to send it out to your audience. Either way, it's completely up to you because a virtual studio allows you the flexibility to go either way!
Live streaming & platform

Since this blog is talking a lot about the technical components, we want to take this time to talk specifically about live streaming and platform options because that plays a big role in the virtual experience. In the virtual event with keynote David Meltzer, another question we received was if there other options to stream to a large audience or if there is another platform used in conjunction with what they are watching. "Platform" is a tricky word. People are looking at platforms as what is a software that is accomplishing this objective.

I want to start by saying that it's about the people behind the technology, it's not about the technology. Whatever platform you are using, whether it's Zoom, Webex, GoToMeeting, ON24, Bizzabo, etc., it's not about the software it's about the people using the software. In that virtual event, we were using GoToMeeting because the company putting on the virtual event needed to get people registered and distribute credits, so GoToMeeting was the best option for them. However, there is an enhanced platform Clarity likes to use that allows us to stream the virtual event in a higher definition quality and has a full range of audio so you can play music or have a band or concert perform.

At the end of the day, when it comes to the platform and live streaming of virtual events, there are services that allow you to accomplish different things. Clarity works with our customers and planners to figure it out and answer all the questions on how the technology blends together and sets you up with the platform that will give you a remarkable experience.
The control room in Clarity's virtual studio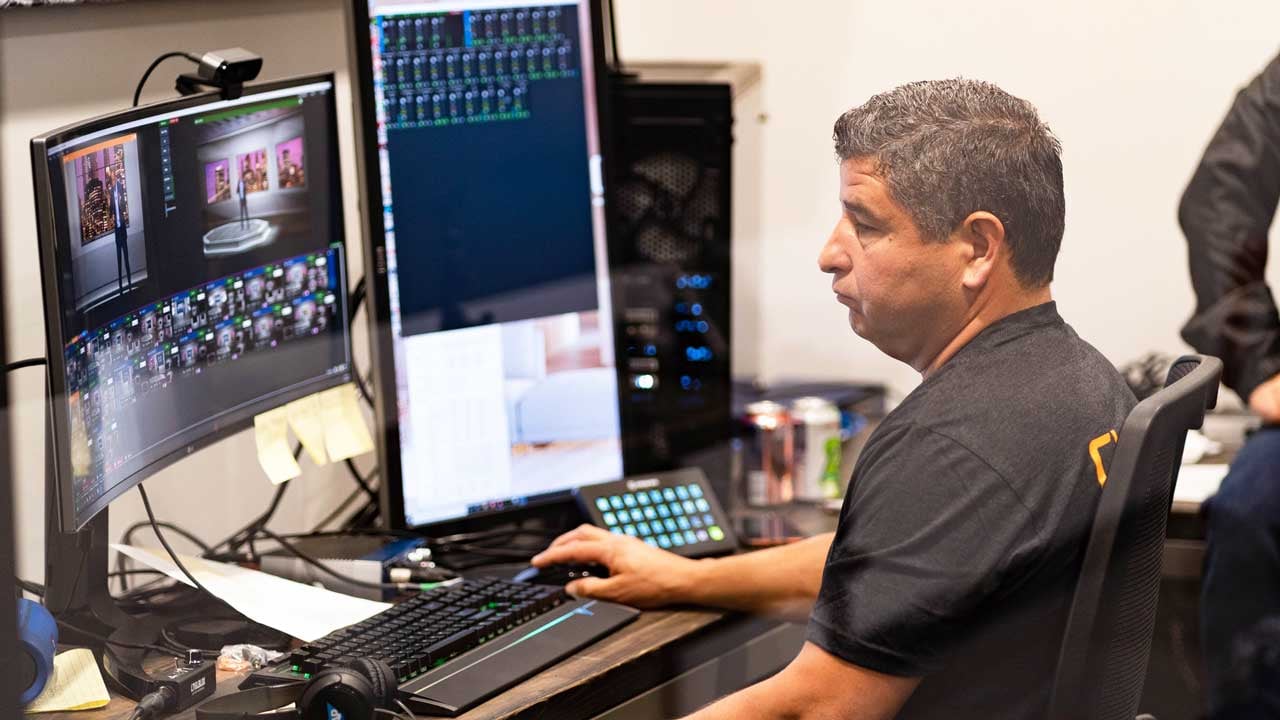 Finally, we are going to talk about the control room. Our virtual studio in our Lake Forest, California location has a full-service control room for virtual events. It has capabilities to pre-record in-studio or remote presentations, live stream, and operate your live virtual events. Our control room is outfitted with the proper internet network and equipment, operating equipment, and software to run an event of any size. While we do have this built out in our Lake Forest office it is all mobile and we can bring it to a location near you. We actually just came back from Kansas City where we helped one of our customers with a virtual event utilizing our virtual studio at their corporate headquarters!
How Clarity's Virtual Studio Can Help You!
That's a wrap for blog two in our Making Virtual A Reality series! We hope this week's blog helped answer any product or technical questions you may have had about our virtual studio. We will be back next week with blog three, where we are going to talk about production value, company value, and making money with virtual events so stay tuned! In the meantime, if you have any questions regarding any of the topics we covered today, or are interested in utilizing Clarity's virtual studio for your next virtual event, contact us today for a free RFP!
Virtual Event Demonstration of Clarity's Virtual Experience
Virtual Event Demonstration of Clarity's Virtual Experience
Making Virtual A Reality: The Clarity Virtual Studio Series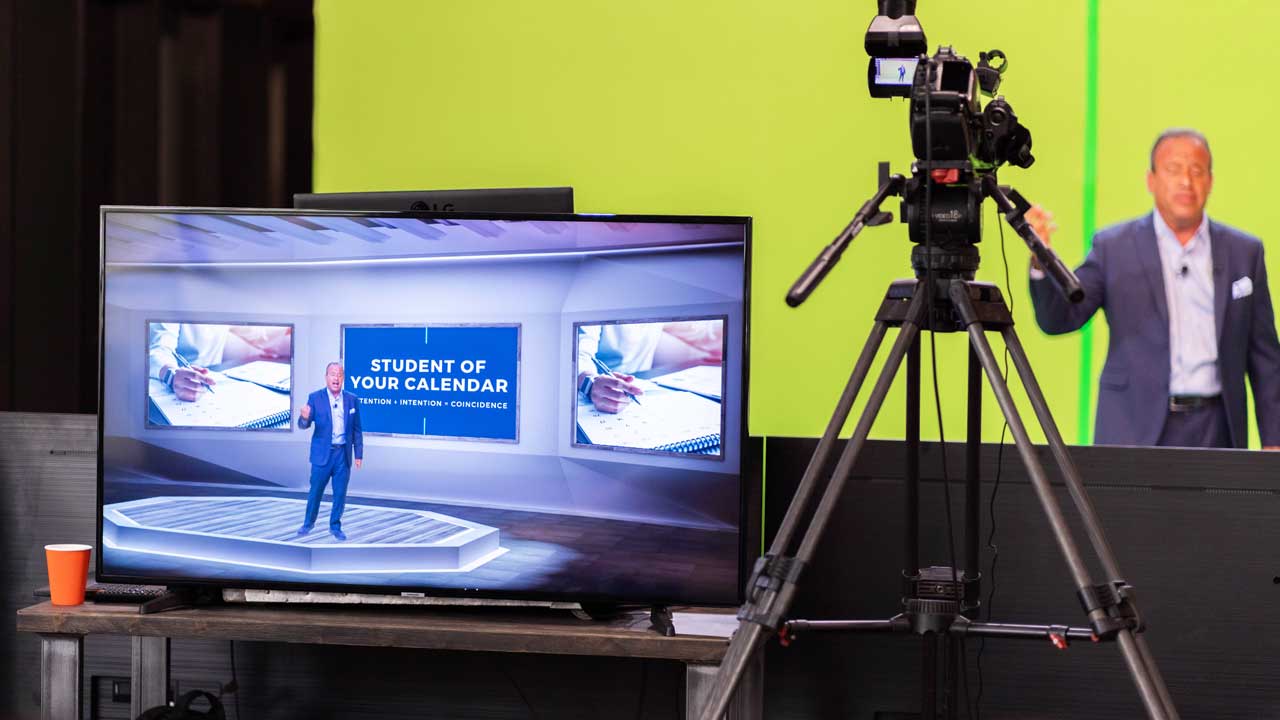 Making Virtual A Reality: The Clarity Virtual Studio Series
Clarity's Custom Virtual Event Platform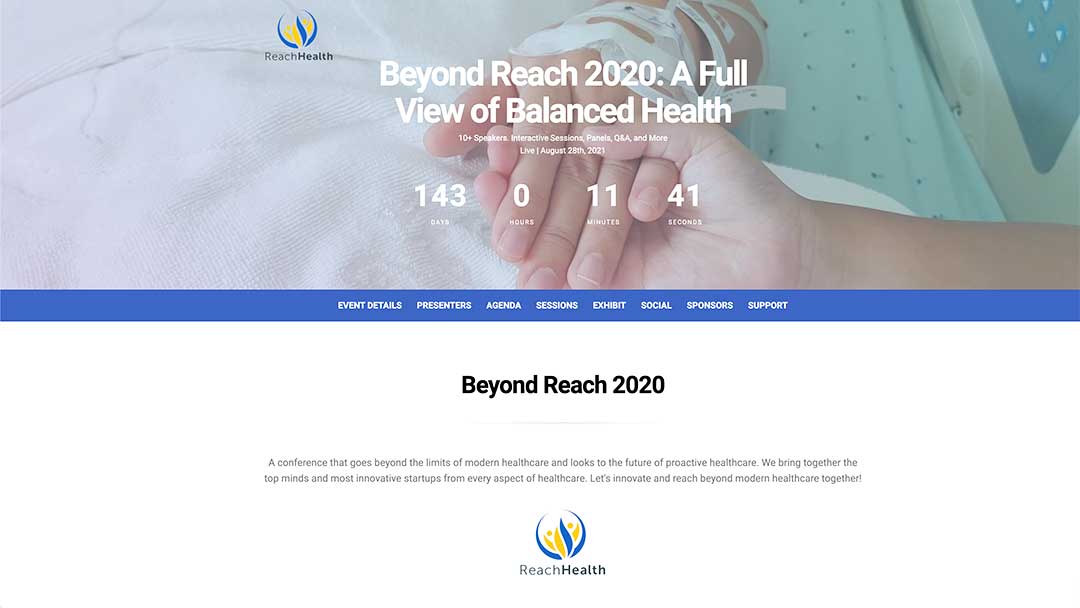 Clarity's Custom Virtual Event Platform