The Ultimate Guide for Meeting Planners on how to Prepare for Fall Hybrid Events
by Adam Findley, on Jun 11, 2020
What Goes Into a Hybrid Event?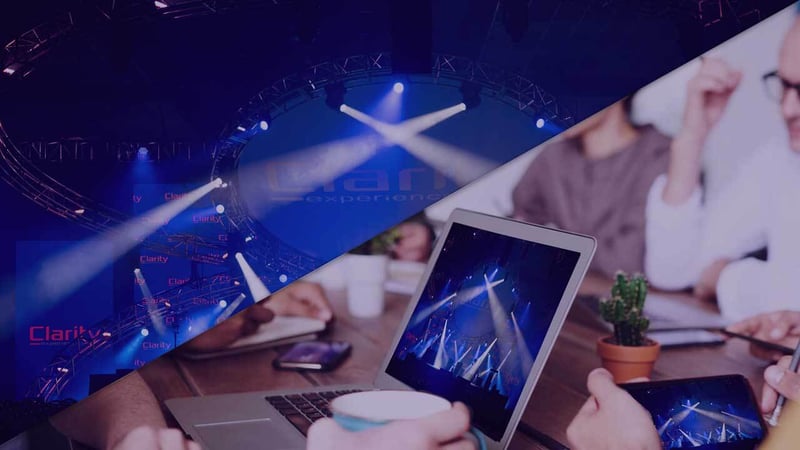 Hey everyone! It's Adam from Clarity Experiences. I am the VP of Operations as well as head producer and I wanted to take some time and talk with you guys about preparing for fall hybrid events. With the return of completely live events still being uncertain, Clarity Experiences foresees hybrid events are going to be very common in the fall and we suggest preparing any of your upcoming events to be hybrid. Understandably, there is a lot that goes into a hybrid event from a production standpoint, so keep on reading to learn some of my thoughts and advice when it comes to preparing for one!
Acknowledge you have two different audiences
The first thing you want to think through is the fact that you have two different audiences in a hybrid event: the virtual audience and the live audience. It's really important to consider both audiences' experiences. If the main presentation is being done live, it's crucial you acknowledge the online audience. The reason why this is so important is because these two audiences should see and hear different things.
A lot of times people will think you can just take what you're showing to the live room and send it out to a remote audience and they will have the same level of experience, which isn't the case. In a virtual environment, you might need different camera angles or you might be sending a PowerPoint, whereas in the live event room you are showing the camera and you can see the graphics and PowerPoints. It's a completely different experience and you want to have the flexibility to send each audience what is going to be the most impactful to them at the time.
Have a dedicated MC for both audiences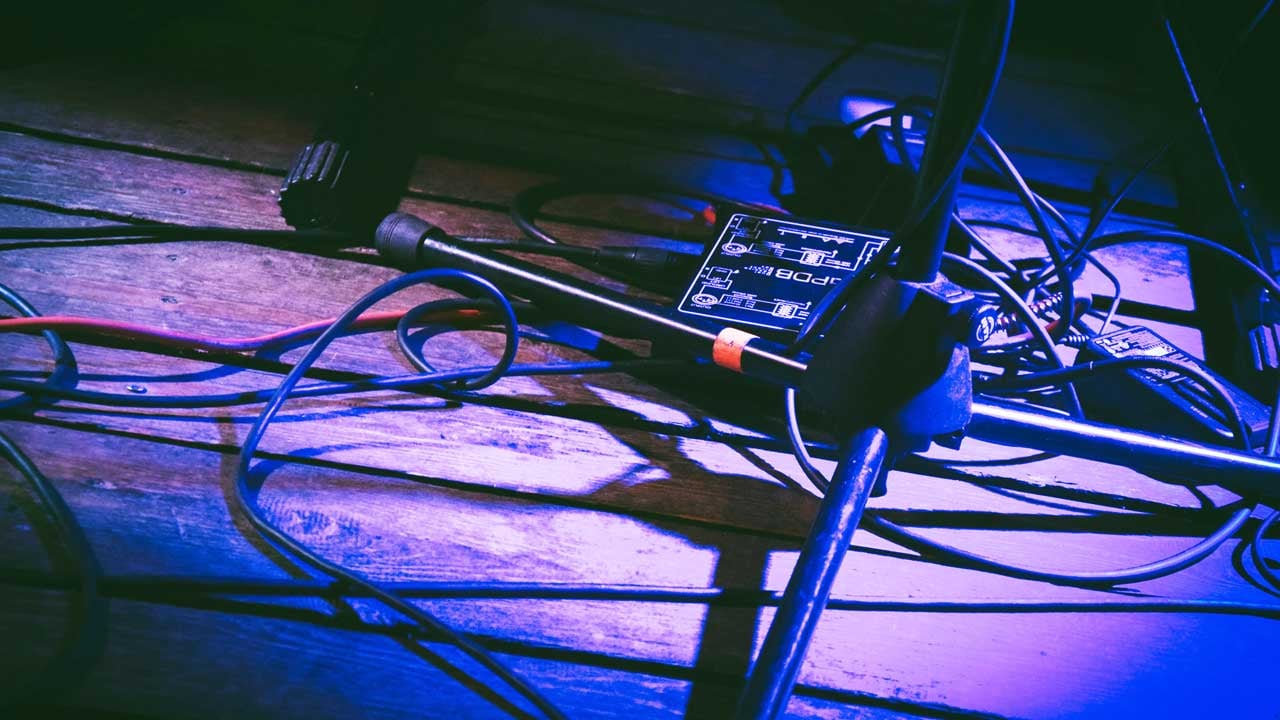 Since you have two different audiences, it's also helpful to have two MC's. My advice here is to have a dedicated MC for the virtual audience just like you would for a live audience. You want to have a dedicated MC for the virtual audience because they are going to be seeing different programming and content potentially at different times than the live audience. Only having one MC can get messy real quick and potentially ruin your attendee's experience.
Incorporate breaks into your hybrid event
In a hybrid event, breaks are crucial. In a live event space, there are typically multiple breaks so everyone can eat, drink, use the restroom, etc. What a lot of people don't realize is that the online audience will need more breaks than the live audience. It's much easier to sit and watch a live speaker for two hours than sit in front of a computer for two hours. You can use these breaks to allow people to step away, but it's also a great way to incorporate things like gamification or matchmaking for your online audience so you are keeping those people engaged if they are staying at their computer.
Utilize social media to bring the two audiences together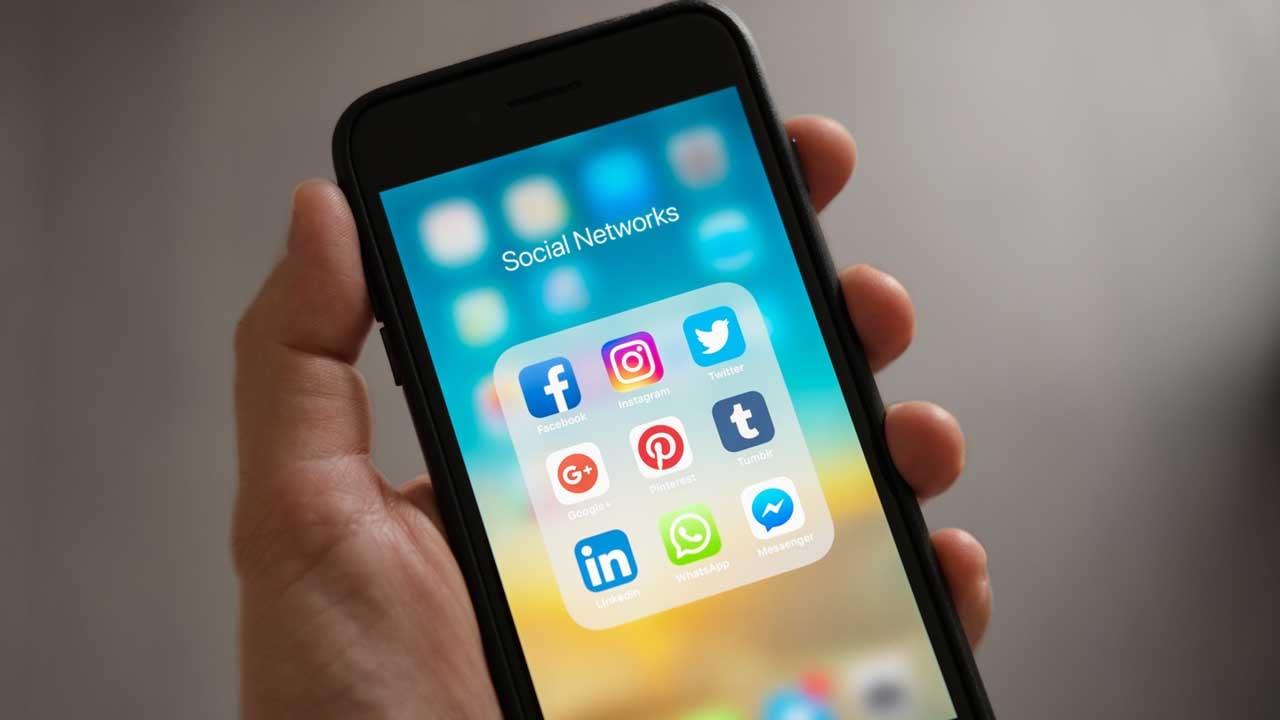 My next piece of advice in preparing for hybrid events is to take advantage of social media. Yes, you have these two separate audiences, but you can bring them together through different tools, social media being one of them. If you can generate a discussion on Twitter around each presentation or on the conference itself, your two audiences can interact, which is the ultimate goal! Now don't get me wrong, it isn't as good as face to face, but in this hybrid role, it's a great way to get the two audiences to come together and feel to some degree like they are at the same event.
Incorporate gamification in a hybrid event
Gamification is awesome and it's an easy way to get all of your attendees engaged in your hybrid events. Gamification can be anything from a trivia game or a crossword puzzle that pops up to tasks you have to complete to move up a leaderboard. A fun game like trivia or a puzzle is great because a lot of people enjoy that, but there are also more competitive people out there and you can target this group with gamification.
You can drive the competitive ones in a scavenger hunt through the event webpage, have them set up a profile, have them make two friends of the other attendees, have them add a favorite animal to your profile, have them visit 3 conference webpages and star the ones they like and get points to move up the leaderboard. This is a cool way to engage that virtual audience and get them involved with the presentation and the content.
Incorporate matchmaking in a hybrid event
Matchmaking is also really popular in increasing attendee engagement in hybrid events. Similar to gamification, with matchmaking, an attendee can visit different parts of the website. They can visit different exhibitors and sessions. What's cool about matchmaking is that it shows attendees who have visited the same exhibitors and sessions and encourages them to meet up or connect through social media or LinkedIn since they have similar interests.
In a live event environment, you don't need matchmaking because the audience can see the other members who have similar interests in-person. That isn't the case with virtual environments, which is why this matchmaking piece is the hottest attendee engagement feature that platforms offer.
Figure out ways to keep both audiences engaged with each other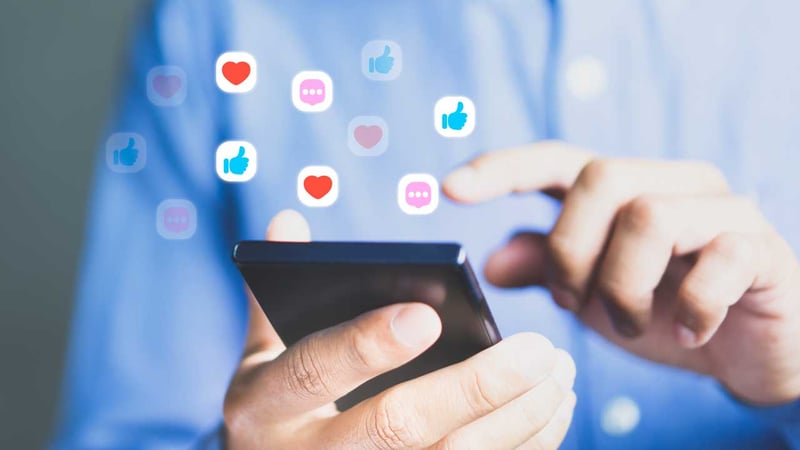 We've talked about different ways to keep your two audiences engaged, but it's also important to try to engage them together. Generally speaking, the live attendees engage with the live attendees and the virtual attendees engage with the virtual attendees, but it's good to think about how to bridge some of those gaps.
A well-executed virtual event will have some connection between the online and the live audience. Social media and gamification like we've already talked about are great ways to bridge this gap, as well as hashtags to mix the content you are sharing from the event.
Have a great communication plan
Another piece of advice I have when it comes to planning a hybrid event is having a great communication plan. Personally, the hardest thing about virtual events that I have found is getting the right people, to the right place, at the right time, elegantly. You can't fill someone's outlook calendar with 25 invites for the day, it's just not practical. Having a landing page or some other sort of page you host that gets people to one starting place where they can easily navigate to the actual meeting they want to be in is key.
You can also have some sort of marketing process or automation behind your plan that reminds people that the conference is coming up, that the keynote is an hour, or that there is a reception that evening. This is so important because if the attendees are at the hotel in a live environment, they know what's going on and what to expect next, but if the attendees are in a virtual environment this isn't the case. Having a solid communication plan is what's going to set your hybrid event apart and make sure your content gets across and every attendee has a kick-ass time.
Program your content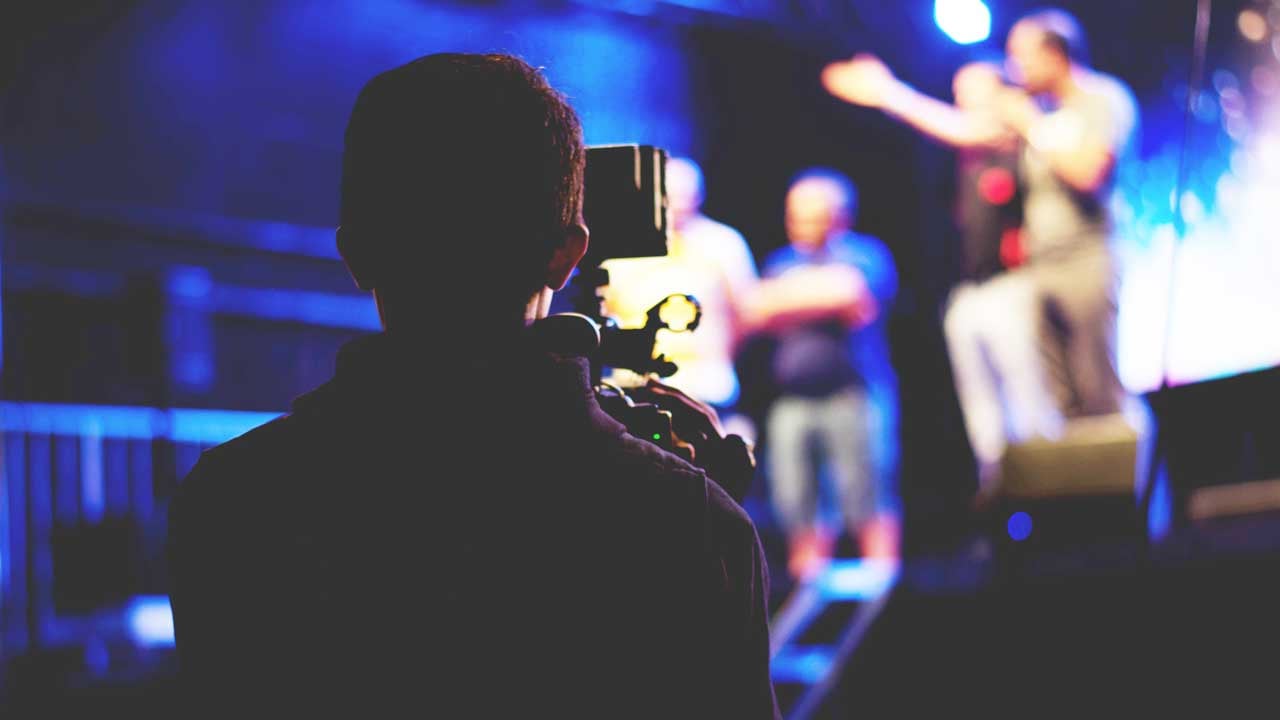 A tip from me to you is not every speaker that's great in live environments is great in virtual environments and not every speaker that's great in virtual environments is great in live environments. Having the right audience for the right type of speaker is critical. The conferences don't have to be the same. You can have different speakers and different relevant topics. Just make sure you have the right presenter or your content and message are going to be missed.
Utilize pre-recorded content
The process of implementing a pre-recorded presentation into a live audience and a virtual audience I feel works well. The pre-recorded aspect allows for quick transitions and the presenter to hit on all the points without forgetting to say something or stumble through an important section. The pre-produced presentation allows the perfect take every time. Then you can go to the Q&A session. What's great about that, is people can send in questions while the pre-recorded piece is playing then you can go live and take all the questions. You get the best of both worlds!
Have a separate team for the virtual side in a hybrid event
When it comes to the production side of planning for a hybrid event, I suggest having a separate team for the virtual audience. I feel that to execute an event at a high level you need a separate small team working on the virtual side. Once you start duplicating, the experience doesn't translate for the virtual audience.
Bridge the quality gap between the live & virtual aspects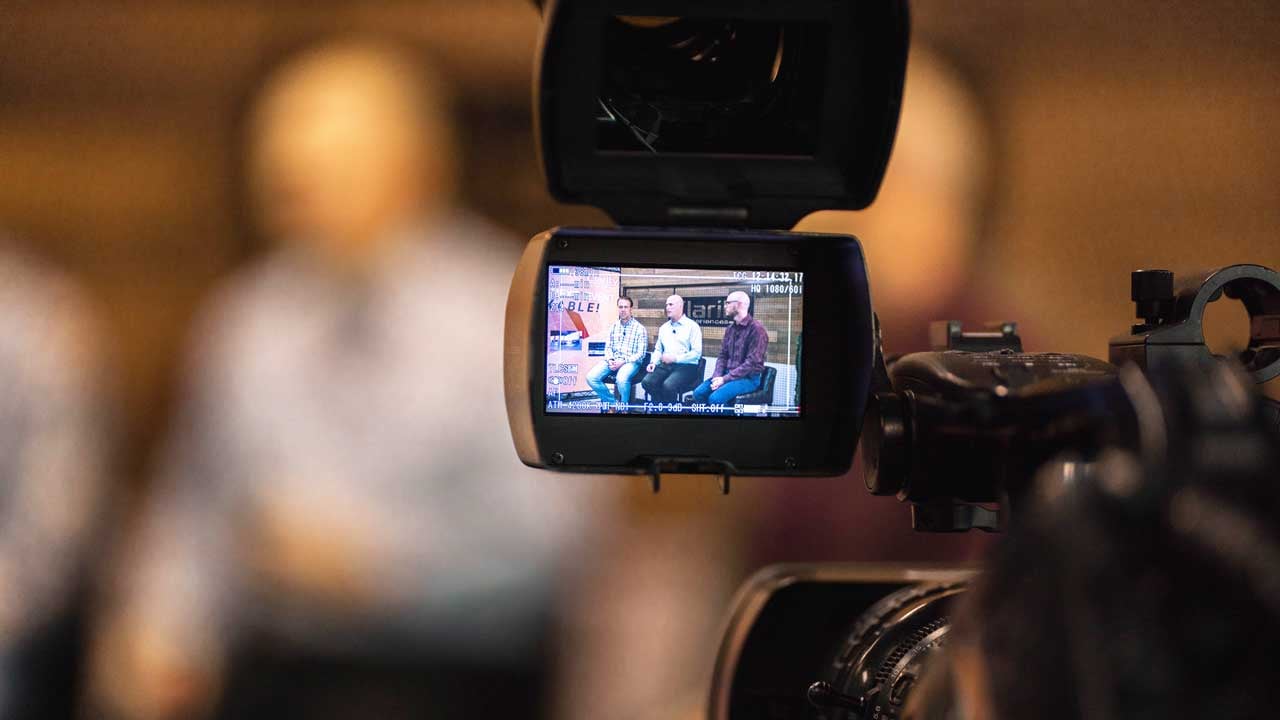 My final piece of advice for you is to try to bridge the quality gap between the live and virtual aspects, which Clarity can help you do! I'm not going to lie, it's jarring to watch a well-produced live video be dumped into a Zoom call. The quality goes right out the window. Don't panic, you can avoid this by having a good camera and lighting, which is where Clarity excels. We can work with your presenters and make that transition seamless and fun, without compromising quality.
Anyone can put up lights, cameras, and microphones, but having that coaching through the video role is where a great production company differentiates from others in preparing the presenters. At the end of the day, you watch pre-recorded feed all the time. But, when you go to that live moment and a presenter is sitting there with his head sideways, scratching his face, that's what people remember, not your amazing event, which is why it's so important to keep that production value up!
That's How To Prepare For A Fall Hybrid Event
There you have it! Those are some of my insights on how to best prepare for a fall hybrid event. With the comeback of a full live event being uncertain, I am confident in saying you can expect to see a lot more hybrid events. If you feel like a hybrid event is the move for your upcoming event and have questions or would like some help, contact Clarity Experiences today! We would love to work with you to make sure your hybrid event is remarkable for both audiences!