A Meeting Planners Guide On How To Help Presenters Be Confident With All Things Video
Video Presenting & Editing Best Practices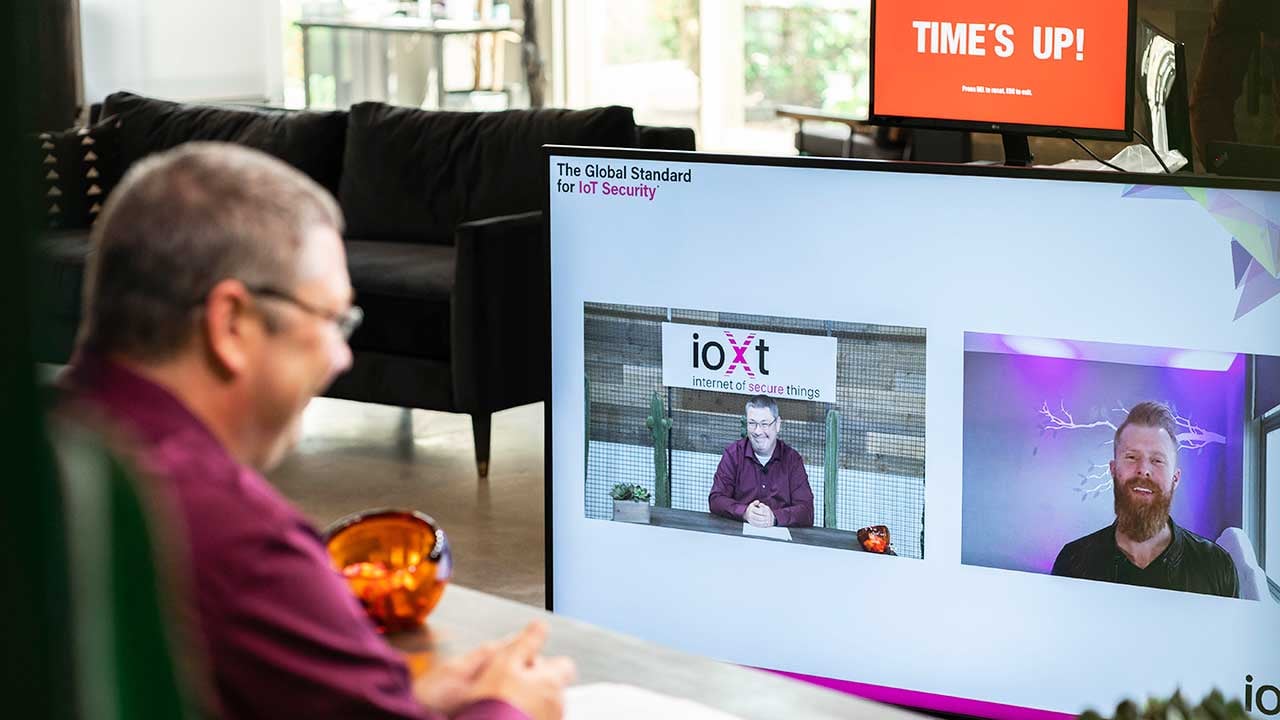 With all of the crap 2020 has thrown at the events industry, I know all of us are trying to stay positive, adjust to the curveballs, and focus on helping our clients nail virtual events. At least that's what we're doing here at Clarity. In perfecting these virtual events, the concept of learning how to be a confident video presenter has come up a lot. Meeting planners have to be prepared to help their presenters and technical team through the differences that come with video presenting in a virtual environment (AKA knowing what you're doing with a camera in your face). I have come up with a few best practices for planners that can help both their presenters and their technical team to feel confident and comfortable when it comes to video presenting. In this blog, we'll go through:
Keeping your presentation focused
Being enthusiastic and passionate
The importance of rehearsing & preparing
Incorporating testimonials
Offering a resource library
Working with a production partner
Having a good editing team
Presenter Tips
If you have ever had to give a speech on a whim or talk directly into a camera, you know what I'm talking about when I say the pressure is on. I don't know what it is, but something about having a camera right in front of you makes it so easy for all of your thoughts to go right out the window. Even for the most experienced public speaker, video presenting is probably somewhat nerve-wracking. As a planner, if you have a presenter who isn't an experienced public speaker or familiar/comfortable with video presenting, it's important to know what you can do to help them feel confident in their presentation. Below are a few of my personal best practices for planners in helping their presenters crush video presenting:
Keep your presentation focused
One of the many duties of meeting planners is helping presenters keep their presentation focused. Like ideally less than 30 minutes when possible. Some presentations will call for a little longer time frame, 45 minutes to an hour, but most can be executed well in less than 30 minutes. To keep it at this time frame, you can tell your presenters to focus on their top three initiatives. It shouldn't take more than three initiatives to get the message across and then the attendees aren't being thrown an absurd amount of information.
The way I like to think about it is by putting myself in the attendee's shoes. We have all attended an event or a class where the presenter doesn't have a clear path of where they are going, they head off on different tangents, and we lose interest. You should think to yourself, "if I was attending this presentation, at what point am I going to start zoning out or dozing off?"
I can tell you the 30-45 minute time frame is the sweet spot. If you can help presenters keep the presentation focused on three solid initiatives and get their point across within that time frame, they'll be solid.
Show some passion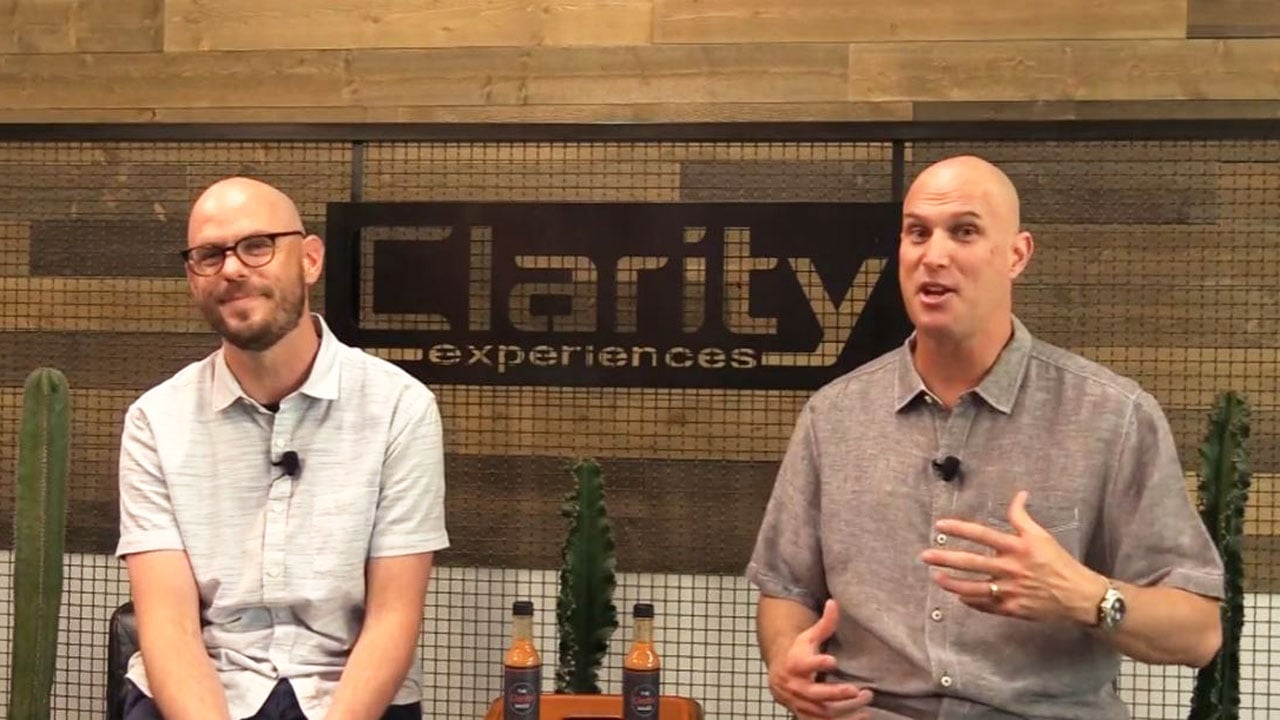 There are a lot of presentations in the events industry that are educational, informative, and important. These types of presentations might not be packed full of emotion and enthusiasm (which is okay), but keynotes and/or hired talent should be. If your keynote speakers aren't enthusiastic, passionate, and showing emotion, then their presentation shouldn't happen, simple as that. If you have a keynote speaker that isn't passionate about the topic or can't deliver, as a planner you might want to consider a change in presenters because the lack of emotion will show through to the attendees.
Planners need to not only make sure the presenters have their presentation planned out but that they know how to deliver it. Passion and enthusiasm will carry through to your virtual audience, which creates a connection that will resonate with your attendee long after the event.
Rehearse, rehearse, rehearse!
Your presenters should be rehearsing their presentation just as much, if not more than they would for a live event. The more rehearsal and preparation that go into the presentation, the more they will be ready to go and handle it like a pro!
Planners - if your presenters aren't sure how they are delivering their message, I have a foolproof way that you can help them. You can suggest rehearsal in front of a mirror, friend, spouse, or even you, to be critiqued on the presentation delivery! It's remarkable what a significant other or a third party will see that they might be completely unaware of. If your presenters are looking for another fun way to rehearse their presentation, they can also fire up Zoom and record themselves delivering it so they can see how they look and sound.
*Warning - results of self-recording may be unexpected because we typically sound and look different than we think we do while being recorded. But, this is a way for presenters to see things they might not have expected, and it will improve the delivery of the presentation once the big moment arrives.
Show off your success with testimonials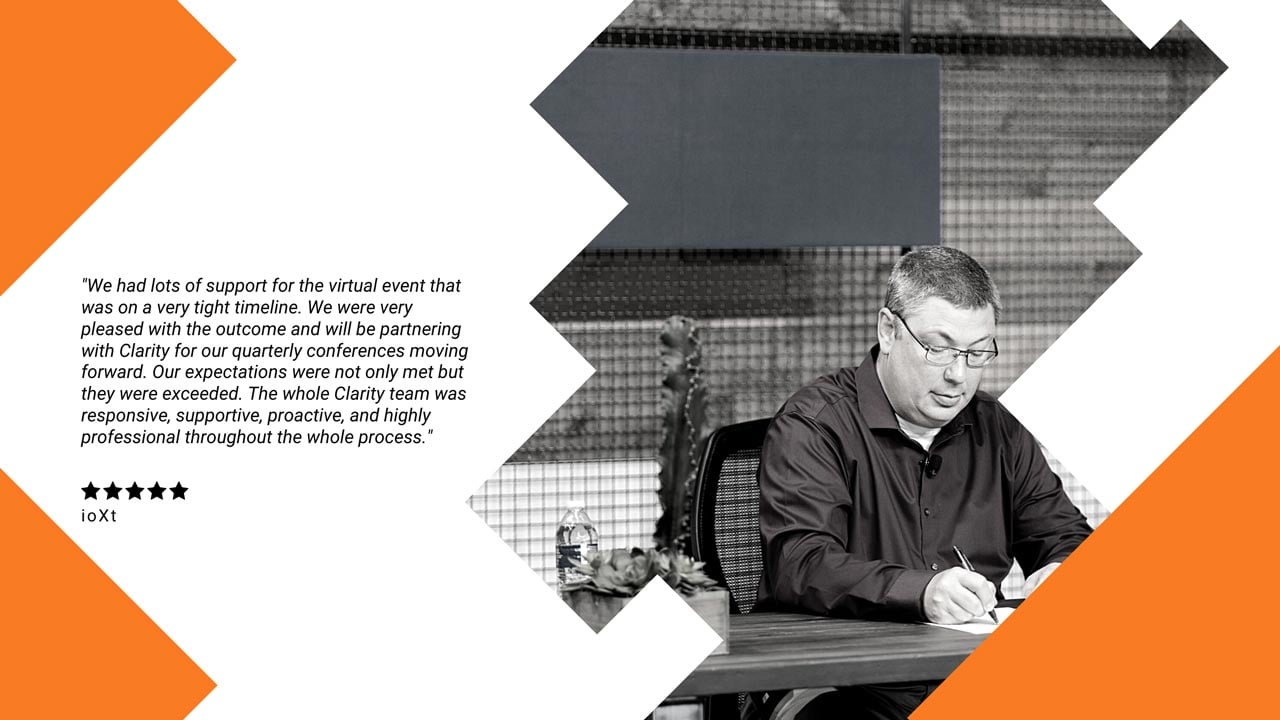 There is no better way to gain rapport with an audience than by showing them testimonials from real-life humans that have worked with the presenter in the past and had a kick-ass experience. It backs up what the presenter is saying and shows the audience they are legit, know what they are talking about, and can be trusted. In addition to incorporating these testimonials into a presentation, planners can also bring in guest presenters to help reinforce this message. When working with presenters on their video presentations, planners should try to incorporate customer testimonials, if at all possible.
Offer a resource library
The tricky part about video presentations is the remote part. In a live environment, there are in-person networking opportunities and live breakout sessions that give the attendee's a ton of value and incentive to attend. One of the first few things that would cross my mind if I was attending a virtual event is: "am I going to get my money's worth out of this, and am I going to be provided the same value I would be getting at the live event?" If I attended the virtual event and the answer to either of those questions is no, I most likely wouldn't attend again. Getting this same value across in the virtual environment can be a struggle, but one thing planners can offer attendees is a resource library. Resource libraries can be anything from eBooks to webinars, to infographics, etc. These provide additional value that attendees can take with them or reference at a later date. Resource libraries reassure attendees that the event is worth their while, worth their money, and provided them value.
Technical Tips
Meeting planners have to make sure any event, whether live, virtual, or hybrid runs like a well oiled machine...no pressure. But seriously, planners need to help the presenters feel confident, but the job doesn't end there. The technical side of the event needs to go just as smoothly as the presentation. It takes a village to run these events. With all that said, below are a few of my personal best practices for planners in making sure the techy side of video presenting is a slam dunk:
Work with a solid production partner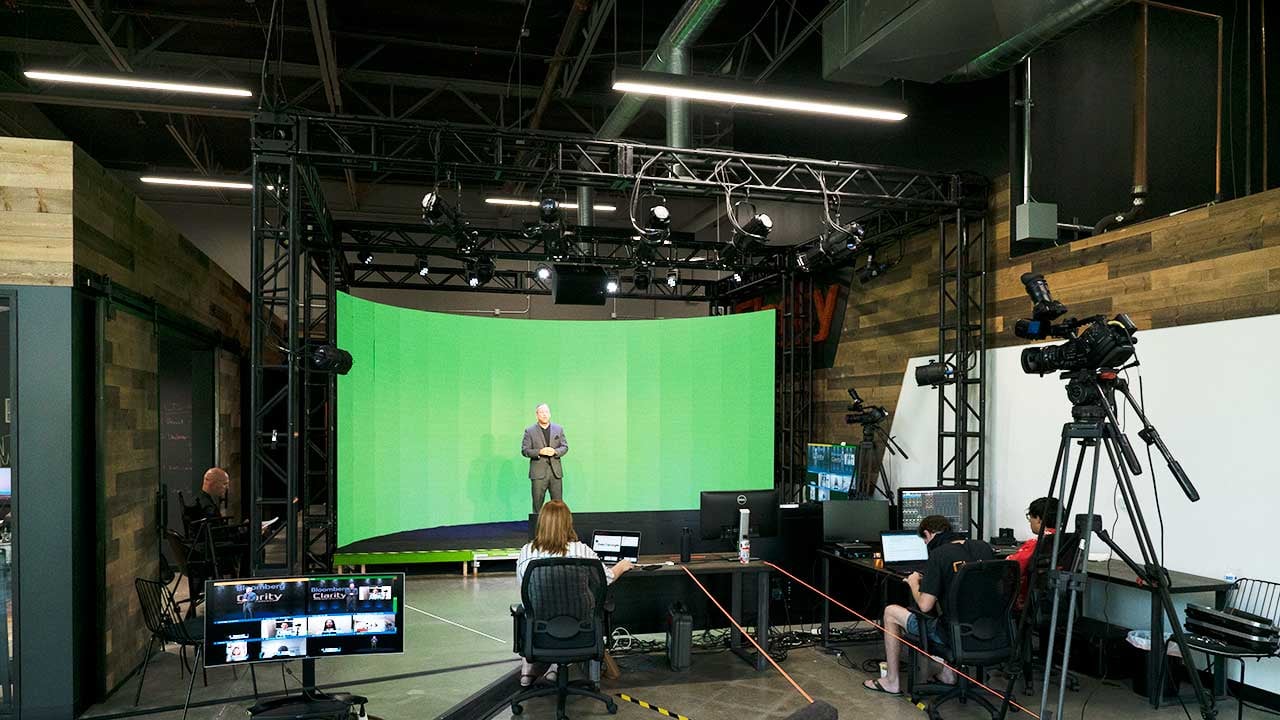 If you are looking for a way to make the technical side of a virtual event go smooth, work with a production partner. I'll say it again, WORK.WITH.A.PRODUCTION.PARTNER! Working with a production partner ensures that the audio, lighting, and camera quality are stacked. We all know the truth about a bad technical experience. A bad technical experience will be what attendees remember, and it will defeat the message you're trying to get across. Don't skimp on working with a production partner. They will help make the event remarkable, and they will make your life as a planner a little less hectic.
Have a killer editing team
You know how I said working with a production partner is a good idea? So is having a stellar editing team. The editing team handles transitions, different camera angles, content overlay in post-production, and entertainment/engagement pieces of the event.
Transitions might not be at the top of your priority list as a planner, but they are at the top of the editing team's priority list. Integrating transitions into the virtual event will keep the attendees engaged. A few places an editing team will commonly work in transitions is between speakers, sessions, or basically whenever there is a segway to a different part of the event.
A good editing team will help incorporate Q&A and polling as well as help you as a planner consider different ways to engage attendees and give them value, even after the presentation is over. Remember the digital resource library we talked about earlier? It comes in here. After the presentation is over, the editing team can help send out the relevant resources which represent the company and allows for sponsor or partner recognition.
That's How You Have Success With Video Presenting!
There you have it! A few tips that all you planners can carry with you to help your presenters and team put on fire virtual presentations. The main takeaways from this blog are:
Keeping your presentation focused
Being enthusiastic and passionate
The importance of rehearsing & preparing
Incorporating testimonials
Offering a resource library
Working with a production partner
Having a good editing team
If you help your team incorporate these different components, you're all set. If you are interested in learning more about being a confident video presenter, drop us a line, we would love to chat with you!
Making Virtual A Reality: The Technology Behind Clarity's Virtual Studio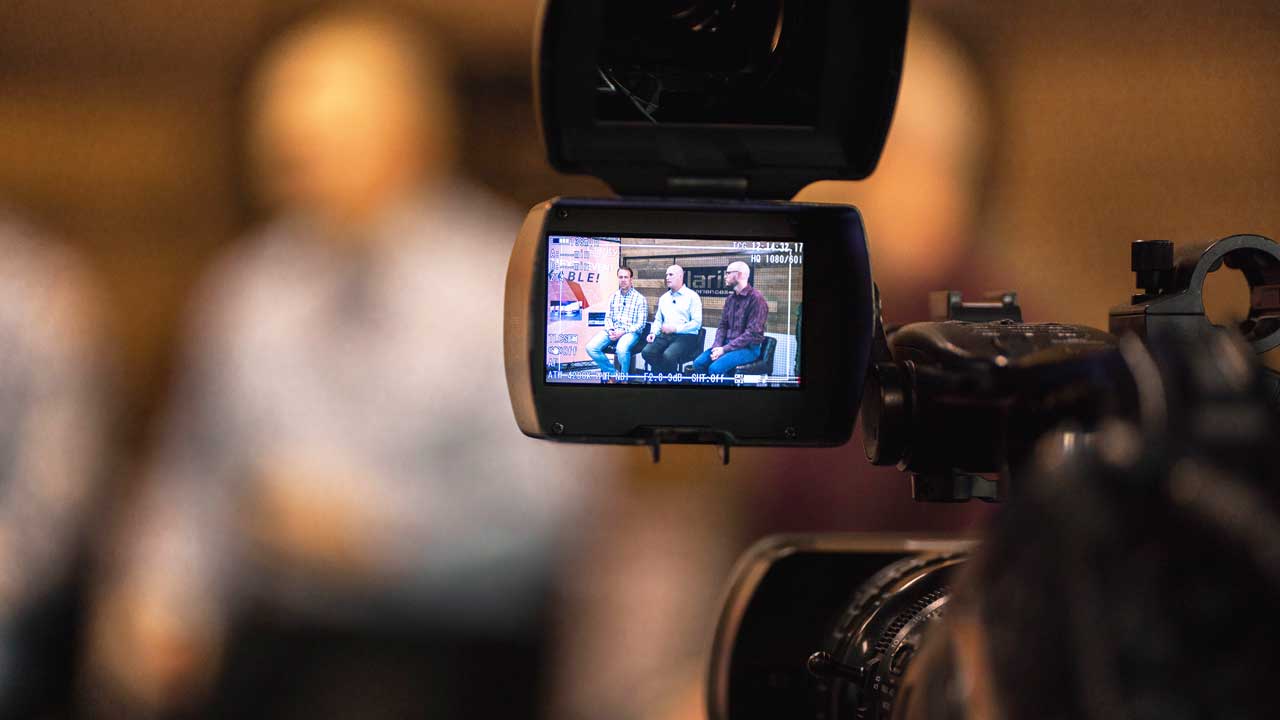 Making Virtual A Reality: The Technology Behind Clarity's Virtual Studio
How to be a More Confident Speaker | 3 Mistakes Made with Confidence Monitors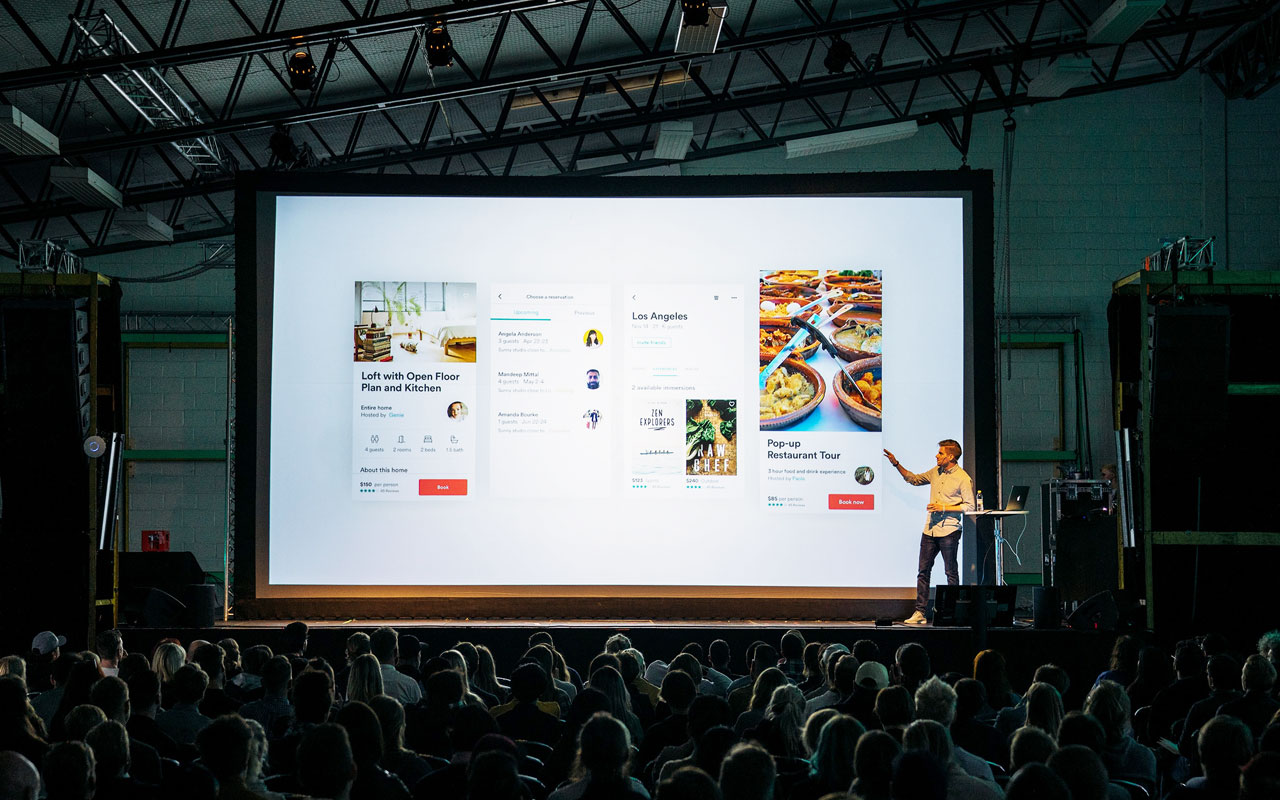 How to be a More Confident Speaker | 3 Mistakes Made with Confidence Monitors
Confident Presenters | Give Your Presenters What They Need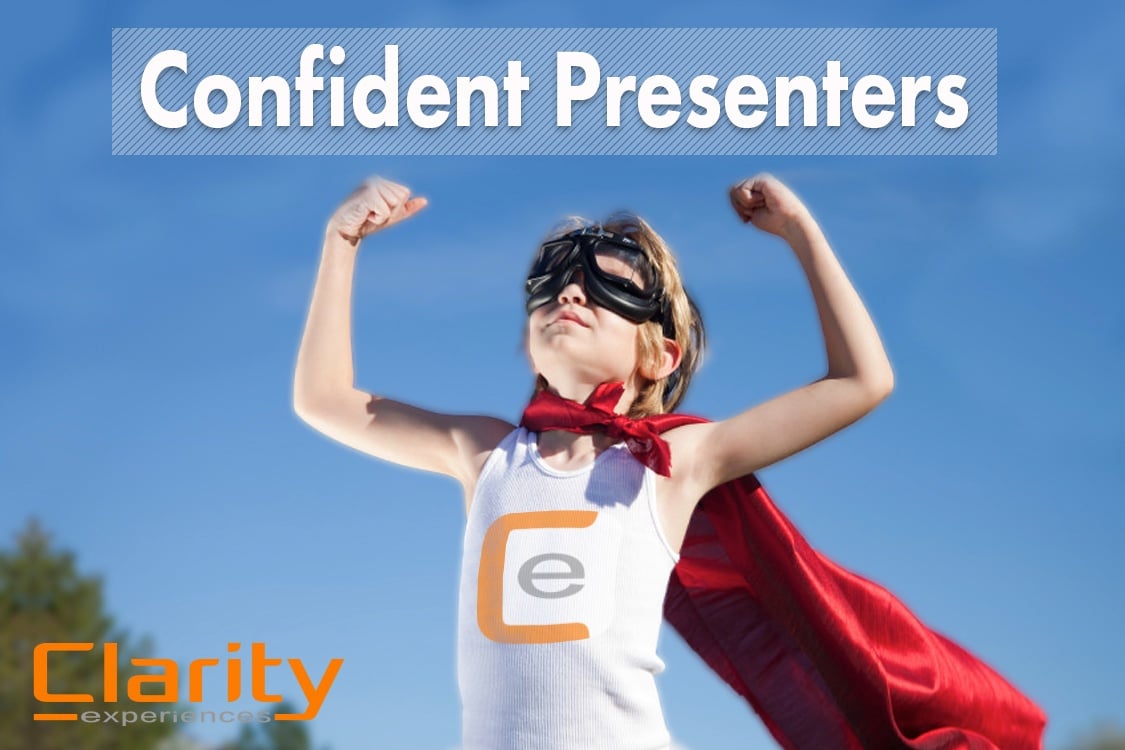 Confident Presenters | Give Your Presenters What They Need