by Clarity Experiences, on Feb 06, 2018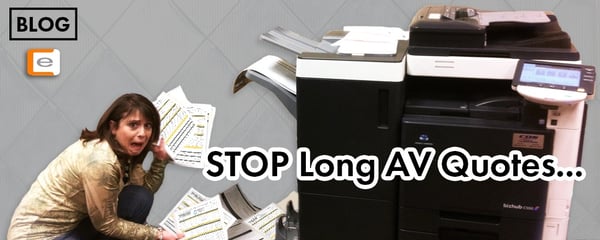 ---
Have you ever received an AV Quote that's more than 10 pages long? Do you value your time? Are you tired of wasting printer ink? Want to save a tree?
If your answer is yes keep reading.
Stop Long AV Quotes!
If you've ever received an AV quote, you have most likely seen 15-100 pages listing out every single piece of equipment. If you are brave enough to read this item by item list, you inevitably have to re-read the quote over and over again to try to make sense of it.
What's wrong with the itemized quote approach?
The focus is on equipment and numbers rather than the purpose and people.
AV companies use different gear so an "apples to apples" comparison of gear is difficult even if you have every detail. Oh, and by the way the equipment isn't what makes the difference, it's the AV company's attention to detail, the skill of the AV technicians, and the overall experience that brings value to your event.
So is a detailed list 100% necessary? The answer is up to you. Unsure? Ask yourself the following questions:
What am I gaining from looking at the itemized equipment list?
Am I understanding the itemized equipment list?
How much time am I giving up to read and truly understand the list?
Does the itemized list help me envision what my event will be like?
Does this itemized list show me who I am working with?
Is there a better way?
YES! There is a better way to receive an AV quote from your provider.
Visual Based AV Quotes:
Have you ever seen a show concept rendering? A concept rendering is a "to scale" representation of your event and it contains all the equipment that you would find on the itemized list working together to give you a picture of what your event will look like. The equipment that is used in the rendering software is then put into an itemized list along with labor costs to give you a dollar amount for your show.
Concept To Reality: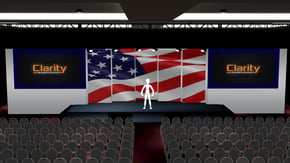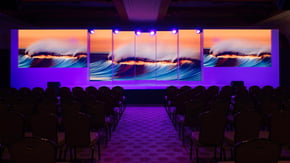 Why is this better?
As a meeting planner, seeing a list of gear doesn't give you any idea of what the event is going to look like. With the constant updating of equipment, it's hard to keep up with the cost of every piece of equipment and some equipment isn't comparable across companies, so what really matters is what your event is going to look like and the experience your audience will have. The concept rendering allows you to envision your event while gaining an understanding of the overall cost for the concept.
Want to experience the difference for yourself?
Let's connect! You can call us, email us, or connect via this form. Once we have some dialogue around your event, theme, audience, and goals, we can take you through our process with no obligation to you. See the difference for yourself!